For the latest in my series of The Big Interviews, I caught up with Newcastle's very own legal Eagle, assistant head coach and Eagles Community Foundation trustee Dave Forrester to chat about his life as an Eagle and his thoughts on many things basketball and Newcastle related.
As always Dave wasn't backward at coming forwards and gives us some real insights into some of the things that go on behind the scenes. I started by asking him how pleased he was at the way this season's team seems to have come together and gelled.
"Yes, obviously. We've kind of got a combination of big and little, young and old, veterans and kind of lesser experienced players all from different backgrounds. But they're all cohesive and from what we can see are all excellent individuals and they seem to be getting on well together."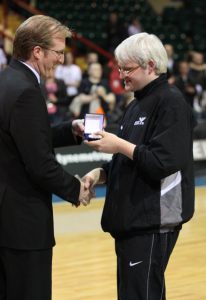 "Certainly, on the court they think that their skills and personalities complement each other as opposed to rubbing each other up the wrong way."
That definitely comes across in the way the team have started this season and Dave talked about the way the team have been playing so far.
"I think we've rebounded the ball very well and managed to play with two genuine bigs on the court and we've got at least three when they are all healthy. We're always wanting to push the ball and always want to play fast."
"The reality is in modern basketball you get better quality shots the more you push the ball. We haven't got a team that's built to walk the ball down the court and let the clock run down. But it's like everything you have to get a quality shot that's what you're looking for."
"Whether that comes in the first six seconds of the offence or the last six seconds. We look for good decision making and good quality shots. We've probably got more genuine size than we've had for a while and maybe at this point a little bit more depth."
"Albeit that we've still never had our full-strength squad out in any game. It would be silly not to try and make use of that by tailoring what we do to the strengths of the players and the group what we've got."
That group of players did not come together by accident and it was fascinating to get Dave's insight on the recruitment process without giving all the secrets away.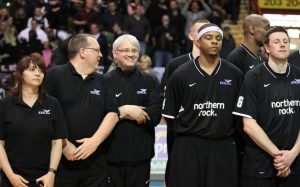 "Recruiting is a very inexact science. Everything starts in June basically once the European season is finished. Very few clubs in The BBL have players signed for more than a year. You start with a blank piece of paper again."
"There are various parameters that we have to work within. The most important one is that the Head Coach likes the players that he sees. So, everything is done with the Head Coach's guidance which for most of the summer was Fab."
"It was myself and Ian who were working on the stuff to put the team together for Fab and with Ian being involved with it he was aware of the guys we were signing and had looked at them all himself so he was comfortable with the group that he inherited."
"There are so many parameters. There's the parameters of cost and the way the market changes between June and August/September. There's the nationality parameters as we're only allowed certain players of certain nationalities."
"There's the question of when you have to get your Americans signed to get visas at appropriate times. There are players that you are interested in, in June that may say no I don't want to come but by August they want to play and sign for you but they can't because you've already filled that spot."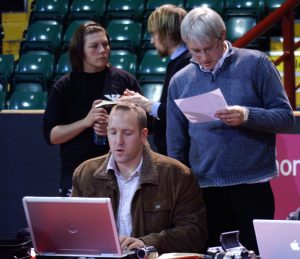 "In reality it's very inexact all you can try to do is to figure it out the best way you can with the agents as every player has an agent. It's all generally done via email and digital footage these days."
"All that while you're still working to a template that the Head Coach has set in relation to the team that he wants and the template that the Owner has set in relation to the finances he has."
Lots and lots of things to think about and work too but given all that how happy are Ian and Dave with the recruiting they've done so far this summer?
"We try and find as many statement players as we can within the parameters. We look for stable community guys and have to be careful but it seems like really positive stuff at the moment. Looking at everybody we don't see anyone that isn't capable of playing in this league or even a higher level."
"Obviously it's our job to get the best out of them and to maximise the talents that they do have within the group but at this point we're comfortable with the personalities of the players we've got and also their abilities. We think they all complement each other well."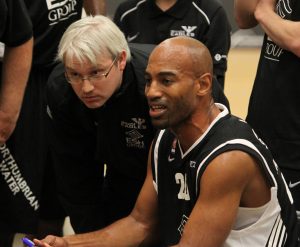 Dave mentioned that Fab Flournoy was present pretty much throughout the recruiting process and it is also well-known that Fab also lived in the same house as Dave and his family. It may therefore have been a bit of a different feeling for him when Fab moved on.
"It's different but I wouldn't say it was the biggest wrench. Ultimately he obtained through his own hard work over 25 years an incredible opportunity and he wouldn't have been allowed to come back here and live here if he'd turned it down!"
"Everything changes and everything moves on. The impact I had with Fab was probably greater than I have to have with Ian because Fab was a player coach. As such there were certain things that he didn't have time to do which he was happy to delegate to me."
"Ian's a career basketball coach and a very good basketball coach. There are things I did for Fab that Ian has already done on a weekly basis. It's what he does and it's his job. So, from that perspective it's probably a little bit less onerous for me."
Dave is still, naturally, in touch with Fab and I asked him how he was and that the fans would love to know.
"We still text occasional and I've asked him how Japan is and stuff like that. He's just settling into a whole different way of life but it's still probably a little bit early to dig in to all that is going on for him over there."
"I'm sure he'll be back at some point but only to visit. I think it's just such a different world for him. He's gone from being the only main individual in relation to a professional basketball club to be a part of a coaching staff which is in double figures."
"It's a totally different environment being part of a multi-million if not multi-billion operation and facilities. It's as different as night and day so we'll watch him carefully and see how he goes."
Many of you will not be aware that Dave is also a trustee of the Eagles Community Foundation and a very valued and trusted member of that board. Recently he has been heavily involved in revamping the foundation's Central Venue League something that he's really enjoyed.
"With getting the new venue the key was to maximise the basketball played by the kids on a regular basis. We've started out a new under-10s group on a Sunday morning now where they play 4 x 4 across the court and get 40 minutes of basketball in two twenty-minute games."
"We don't keep league tables at that level and we've currently got 13 teams and 80 under-10 players. We've got 15 under-12 teams around the Tyneside conurbation and slightly further afield which gives us about another 120 players at that age group."
"We're constantly looking to build that and the most important thing is that they're not just playing regularly they're also practising regularly as well. It means on a regional and national basis we can start becoming more competitive and developing players on a regular basis."
"The environment on a Saturday and Sunday is great. A lot of people within the ECF are working very hard. Basketball being played on three courts from 9 till 5 with scoreboards up, the website being updated with scores and fixtures to keep things updated."
"We've got plans to do more like a finals day in December on the main court on a Saturday after an Eagles home game and just continuing to keep it growing and seeking sponsorship for a worthwhile venture to help that development."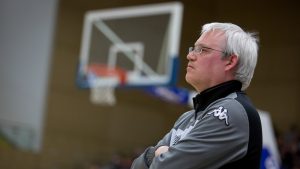 It certainly is a new era all-round for Newcastle Eagles and not just at senior level as once again this forward-thinking club looks to an exciting future with Dave playing a part alongside so many staff and volunteers.
"It doesn't just come because we have a new venue. It comes from hard-work and proper planning and structure and adhering to standards. The key thing for us and myself as a Trustee is to push forward the significance of the standards that we want and not to let things drop."
"Hopefully we'll see that in participation numbers and performance levels. Ultimately and hopefully we'll see that in player development. That's the aim."
Exciting times indeed and it's great to have someone like Dave at the heart and forefront of it all working alongside and with so many others who put the time and energy in to help the club grow,
It was also fascinating and illuminating to hear Dave's views about things that go on behind the scenes and how he genuinely feels a passion for Newcastle Eagles and its future.