Marc Steutel has been confirmed as the Great Britain Men's Head Coach for the November FIBA Basketball World Cup Qualifying window.
With Nate Reinking unavailable, the Newcastle Eagles play-caller will take charge of GB for the home clash at the Vertu Motors Arena against Serbia and the away qualifier in Latvia.
The national team is just weeks away from hosting the Serbians in Newcastle on Friday 11 November, which is set to be another exciting encounter that Basketball fans won't want to miss.
"Any time you're selected to represent this team, especially against a powerhouse like Serbia", said Steutel.
"We've got a monumental task ahead of us, but this is why we compete and there were a lot of positives for us from our last qualifier against Latvia.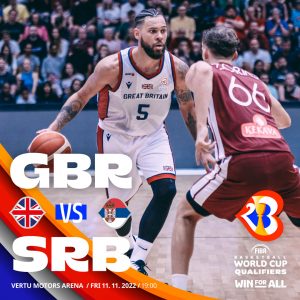 No stranger to the Vertu Motors Arena sidelines both domestically and on the global stage, Steutel has led both the Eagles and GB to victories that were against the odds.
Before taking on his new role, the now BBL head coach led the national team to wins on Tyneside against Germany in 2020 and Greece in 2021 in front of capacity crowds.
"I don't take this position lightly. I am very appreciative of how fortunate I've been to be involved and be around some extremely talented players and exceptional staff", Steutel added.
"I'm sure if I sat down and reflected on it there'd be some games or moments that stand out.
"Overall I'm just proud and pleased about the experiences I've had, the relationships I've built and the memories we've made together as a group of great people."
Newcastle has become a home from home for the British roster who have prepared for both EuroBasket and World Cup Qualifying windows in the city.
"We've created a great family environment in camp between the players and staff and it is a really special feeling to be a part of this group", the head coach continued.
"I can't wait to bring us all back together and start trying to build something again over the coming months."
You can get your tickets for Great Britain's showdown with Serbia at the Vertu Motors Arena on Friday 11 November from the box office.