Team Northumbria Men's basketball are going in to the 2017/18 season as reigning English Basketball League Division One Champions. Given that it's a position only one-off the top flight British Basketball League it was some achievement last year by Head Coach Marc Steutel and his roster.
The Championship has given them an opportunity to play in this season's BBL Trophy, something that Steutel and his charges are very much looking forward to doing as they await the draw with anticipation.
Last Sunday they go a taste of how difficult a task that may be as they went down 117 – 67 to the new-look exciting Esh Group Eagles Newcastle side but Steutel and his team should take a lot of heart from the fact that at the half there was only eleven points between the teams at 55 – 44.
Steutel gave his thoughts on the game, The Eagles, his own team and the season ahead straight after the game starting with his team's performance.
"It was a good competitive game and for our team to be exposed to a level of competition like that was a positive thing. I was pleased with certain aspects of what we did. I thought that our ball movement and working for each other, our spacing and timing offensively at this stage of the season was positive."
"I think we have some very clear defensive areas where we need to improve. I'm not a massive believer in moral victories they don't mean anything. What does mean something is the measurable, quantifiable stuff that we can take out of the game."
"I was disappointed at how the game got away from us and playing against a team with that talent level that's always in the back of your mind as to whether that's something that's going to happen. So, I think that we've got some areas where our decision making has got to be better."
"I thought mentally we have to be better and there's definitely some sharpness and execution from our standpoint that has to improve but hopefully with games and tests like this and more practices to come we can get there."
Steutel though does have a reason to be optimistic having returned many from last year's Championship side as well as adding one or two new pieces and they look like a talented roster that does run deep.
"We do have some depth and that's massively important. We've returned everybody minus two guys that we're going to miss. Those two guys brought something that was unique but that gives other guys an opportunity to step up in other kind of roles."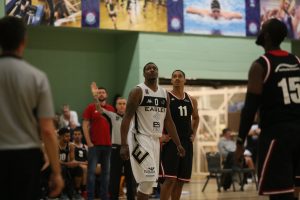 "I do love our team, I love the balance, I love how we play and I love how we share the ball. I do think we have depth too. Last year depending on what the situation was, 75% of the time we brought Malcolm (Smith) off the bench and he was the MVP of the league."
"Not once did he moan about that, he just bought in to that role and gave us a spark and it proved we are a team that runs that type of programme and that's what we've building on over the years. I'm excited to see what we're going to be able to do."
"Other teams I our league have strengthened and made significant signings which is good for us. We've never been in this situation before where we've got to defend our standing so it's exciting and something to look forward too."
One of the changes that has occurred is that Danny Horta Darington who was part of The Eagles Senior roster has stepped down to play for Northumbria and actually started against his previous parent club on Sunday.
"Danny has improved massively and that's good to see. I worked with Danny for three years as he was going through The BBL transition. He hasn't been involved in the D1 programme for over two years."
"When he spoke about his desire to step down primarily from an educational standpoint, balancing his Master's studies I said let's give it a go and let's see where he's at. Things do change but at the minute he's starting because of how he's been practising."
"I think he's improved, I think his IQ offensively is excellent. He cuts off the ball so well and his movement offensively is so positive. Defensively his smarts have improved no end after being in with Fab and The BBL guys on a daily basis so I'm really excited to see how his season progresses at our level."
"We're really looking forward to The BBL Trophy draw"
It was probably during that first twenty minutes of Sunday's game that The Eagles were given their sternest test of pre-season and showed the promise in Team Northumbria's roster and the reason why they can be effective in The BBL Trophy.
"We're really looking forward to The BBL Trophy draw. We do have to focus on our main competitions but for me and for everybody there's going to be massive interest when that draw comes around and we see who we get."
"This was big experience for us that will help"
"We've earned the right to get that invite and we're so pleased to get it after what we did last year. I'm happy that I've brought a lot of the guys back as they're the guys that earned that opportunity and I know that they really want to do that."
"The guys today were really disappointed with how the game ended but I think going in to a BBL Trophy game this was big experience for us that will help."
So, moving on, Marc knows Fab well and knows his system too. He's now had first-hand experience of the 2017/18 Eagles, what did he think?
"They are talented, no doubt about that. But I noticed that when the game was getting stretched out Fab was on the floor. I think the only adjustment in the game from them was how hard they played after half-time and they cranked the pressure up."
"With Fab being on the floor that's not a coincidence, that's a direct correlation. When he was on the floor the defensive intensity they had went up a notch. I like his team, I like the versatility of his team. It looks like a very modern type of team."
"They have a lot of face-up guys, a lot of shooters. Guys who are able to defend multiple positions. Obviously the two guards had 66 points between them and were awesome. I love Kai Williams, for me he's that X-factor type player that every good team has."
"It's a massive rebuild but it does look good and really exciting"
"When he's on a team people know. Maybe on the outside looking in he might not be a guy who gets all of the credit but for me straightaway he's the type of guy that can be the X-factor on that team. Shoots the ball well, guards, rebounds, smart positioning and a great signing."
"It's an exciting team, it's a massive rebuild but it does look good and really exciting."
Perhaps the way that The Eagles were forced too and managed to step up in that second twenty minutes was a compliment and a positive thing for Steutel to take out of the game?
"Potentially, but I always find that difficult as a coach as there are no moral victories for me unlike some other coaches who may have taken it that way. The reality is that we just lost a game by 50 points."
"So, yes, there might be something that we can analyse from that to say that this is why we were initially successful but it's definitely given us something to improve upon and work on and that in itself is also a positive that we can learn from."
Team Northumbria have a massive and tough start to their campaign this Saturday (23rd) at Sport Central when they have an "away-home" game against derby rivals Team Newcastle who have moved up to Division 1 following promotion last season.
Team Newcastle have made some big signings in order to cope with the rigours of Division One basketball and this derby clash will be an intriguing, fascinating and exciting one. The level of North East basketball with these two teams and The Eagles around is well worthwhile watching this season and it would be great to see a big crowd turn up for this blockbuster of an opening game.