At the third time of asking, Esh Group Eagles Newcastle finally got "the monkey off their backs" and recorded their first senior win in the new Eagles Community Arena. In doing so they gained a modicum of revenge on a Manchester Giants side that had defeated them three weeks earlier.
That Giants win had ended Eagles BBL Trophy hopes, this hard-fought 93 – 85 reverse win kept the Eagles Championship bid alive and further consolidated their play-off place. But, for many it was the relief and pleasure a packed-out arena took in finally christening it with a win that was palatable.
Eagles had been down by 20 – 8 early but power forwards Victor Moses (26 points, 9 rebounds) and Darius Defoe (21 points, 10 rebounds) led from the front to nullify the Giants inside threat and bring their side back by half-time and then forge them ahead in the second twenty minutes.
The Eagles even overcame losing their on-court general Rahmon Fletcher midway through the third period who injured a knee but in veteran Drew Lasker and rookie guard Kyle Williams they found the keys to unlock the Giants defence.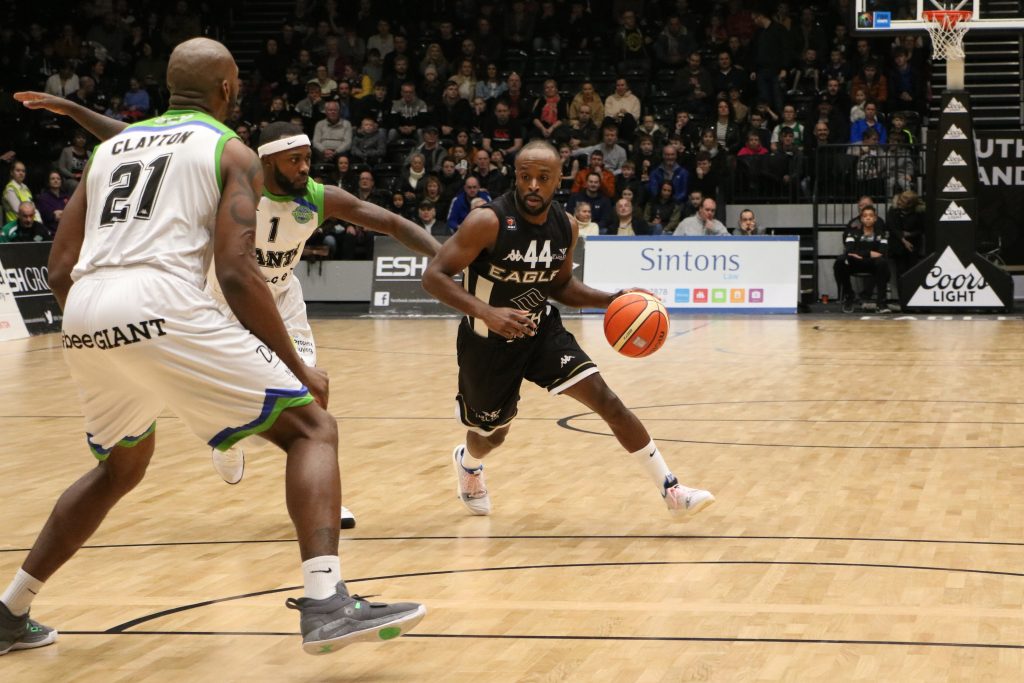 Williams in particular had a fine game (20 points, 5 rebounds, 5 assists) and definitely provided a real spark from the Eagles bench to energise his team-mates all night. He was delighted at the end of the game to celebrate a win in his team's new home.
"It felt great to get our first win in this arena. The energy and atmosphere is always so good in here and it's nice to give the fans what they want. I just hope we can keep this rolling now we've got that first one done."
"I had to step up especially when Fletch went out. The whole goal is to be consistent and just do what ever I can to help the team win. I was pretty pleased with the way I played but I know I can get better as well."
Without doubt one of the biggest pluses for the Eagles on Friday night as it had been the week before in the road win at Worcester was having Victor Moses back in the line-up alongside Darius Defoe which made a huge difference for the home side.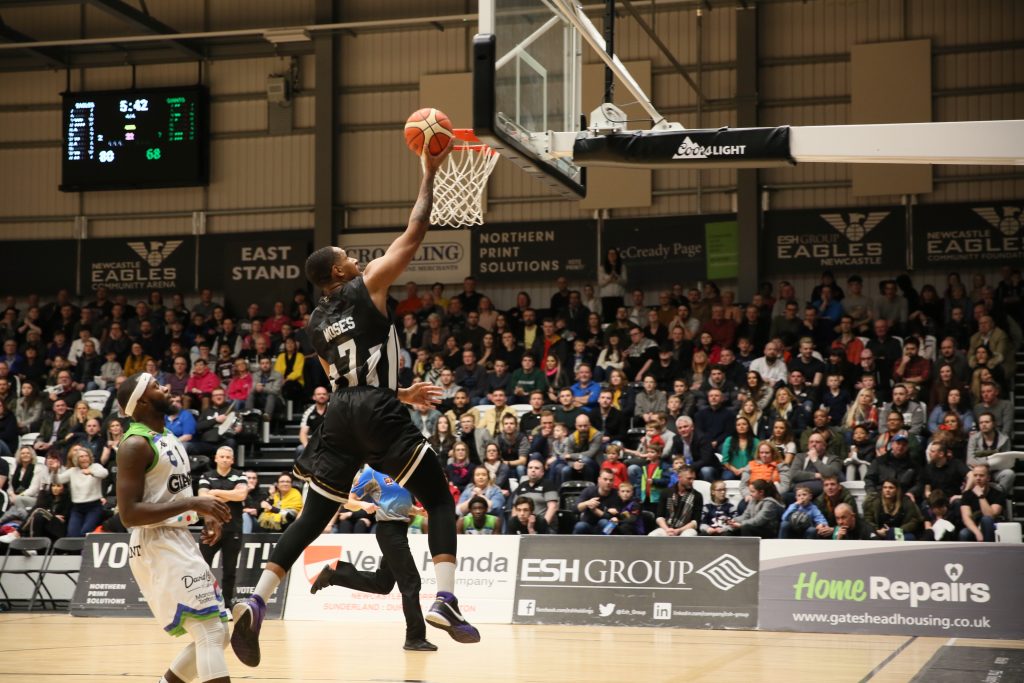 "Definitely a real bonus for us having Victor back. Our bigs played great tonight. They were in double figures also and helped really well on the boards and helped our defence out all game which was great for us and gave us a platform to go on from."
So, with the first win now secured and a week's rest before the Eagles return to the court and the ECA next Friday night against arch-rivals Glasgow Rocks it's about keeping confidence and focus moving forward.
"We just need to keep practising hard, keep working hard and bring that intensity in to the games. Then we can eventually keep building it all up, get the momentum going and try to keep the wins rolling which we need to right now and for the rest of the season."