The Newcastle Eagles may have moved into a new arena last year but no matter where they've played one man seems to have been a permanent fixture and fitting in their playing roster.
That man is veteran power forward Darius Defoe who has committed to his sixteenth successive season in the black and white since he made his debut way back in 2004-05 as a 19-year-old.
The hunger is still there for a man and player that will turn 35 during the current season and as one of the most decorated players in British basketball explains he's as excited as ever.
"It feels good to re-sign again. I feel blessed to be able to play a sport I enjoy as my job and to play for that long. I'm just happy to keep doing what I love doing. Newcastle is a very special place to me."
"I have my family up here, the fans are unbelievable, the city is unbelievable. I think it may be ahead of London now as the place I call home."
The Eagles all-time leading rebounder has scored in double figures for his side in the last nine consecutive seasons and no-one quite understand the Newcastle ethic and mantra more than Defoe.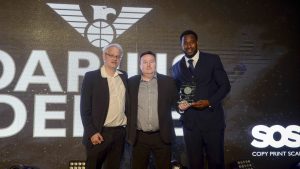 A fact that was celebrated at the end of last season with the forward being honoured with an award for his services to the Eagles both on and off the court at the club's annual dinner. An honour he was delighted to receive.
"I felt really proud to be honoured with an award from the club. It really touched me and it was very nice of the Club to give me that recognition and award."
The standing ovation Defoe received at the dinner showed the affection and esteem everyone holds him in within the Eagles organisation and made it a no-brainer for Head Coach Fab Flournoy and his coaching staff to bring him back "home" once again.
But with two brand-new big men in this season's roster does Defoe perhaps foresee a different role for himself this time around?
"I don't think so. I'll still be playing my game, helping the team. As long as the team's winning, I'm happy. We need to win some trophies this year and that'll keep my happy. At the end of the day it's not about who starts, who's on the bench as long as we're all playing together and winning."
"I think it looks like we've recruited very well and this season's going to be a bit different. I like what I've seen and heard about all the new guys and I'm looking forward to playing alongside them and helping them get used to Newcastle Eagles."
That first opportunity will come tomorrow night at the Eagles Community Arena with the pre-season friendly against USA Select and Defoe can't wait to get started again.
"Sometimes it feels like the summer wasn't long enough but at the same time I can't wait, I can't wait to tie my shoes up and start playing again in front of those fans that I know are the best in The BBL, period. It's one of the reasons why I've come back again and I couldn't see myself anywhere else."