Another day and another humbling defeat at Surrey Scorchers.
Lightning struck twice for Newcastle Eagles who were predictably unpredictable in surrendering a three-game winning streak and slumping to a ninth league loss.
Newcastle never led in a one-sided clash that exposed a team still searching for consistency in the final month of the regular season.
And just nine days after watching his side secure a wonderful win against big-spending London Lions – a team that comfortably saw off Surrey last Wednesday — MacLeod might be forced to hit the reset button for the second time in as many weeks.
If Friday night's 20-point win against Glasgow Rocks masked a poor performance then a 20-point defeat against the Scorchers provided a more accurate picture of a roster lacking confidence.
MacLeod knows that the margin between success and failure this season is more about his players' collective mindset than their unquestionable talent.
But the Eagles looked mentally shot against a team that clearly has their number…and the Championship head-to-head.
Newcastle returned to Surrey Sports Park just two weeks after one of the club's most disappointing defeats of the season.
A fortnight earlier, MacLeod's men found themselves caught up in all kinds of foul trouble on their way to an 88-84 defeat.
And Newcastle finished a frustrating fixture without Evan Maxwell, Justin Gordon and Cortez Edwards — all three starters fouling out before the final buzzer.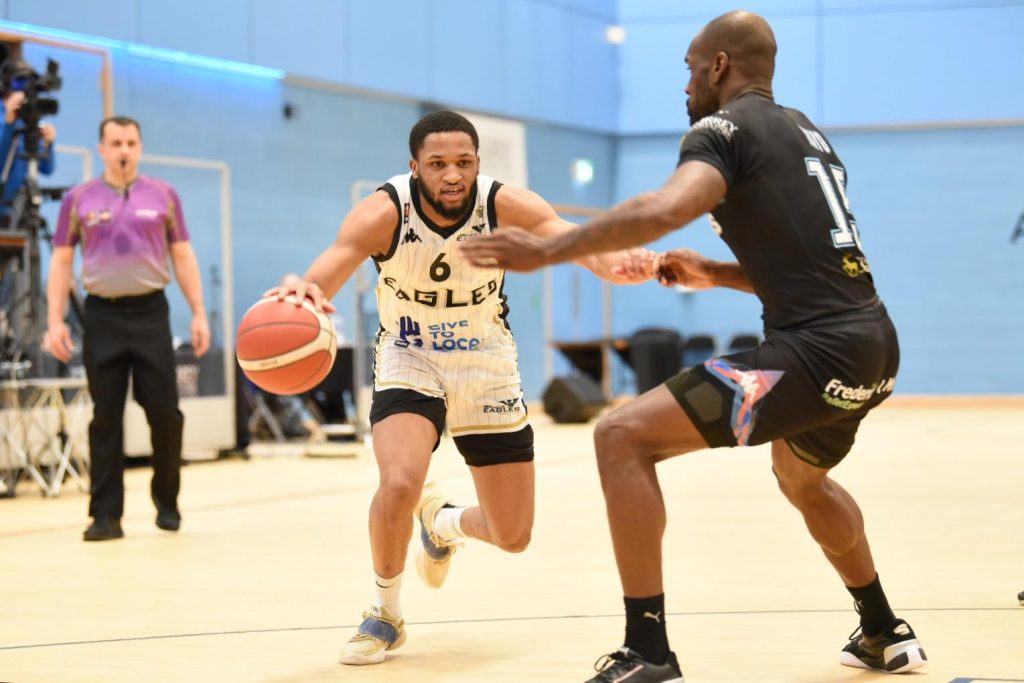 Better discipline was, no doubt, a key feature of the pre-game talk on the coach trip down from Tyneside.
But it was a case of déjà vu as Gordon and Rahmon Fletcher picked up two fouls apiece during a slow-paced first quarter dominated by the referees' whistles.
And although Maxwell managed to stay out of trouble, the Eagles' centre once again struggled to impose himself against the well-drilled Scorchers.
Surrey restricted the visitors to just eight points in the opening seven minutes and a series of pedestrian Newcastle offences proved painful to watch.
MacLeod had clearly seen enough so soon after Friday's equally unconvincing start against basement club Glasgow Rocks.
And his canny time out sparked a 7-2 Eagles run to close the quarter — the introduction of Darius Defoe finally putting pressure on the Scorchers in the paint.
Surrey led 19-15 after 10 minutes but Newcastle were fortunate to find themselves within four points of the comfortable hosts.
The BBL's second-placed team had shot just three from 14 from the floor and missed all five of their three-point attempts.
The numbers just didn't add up for a side seeking a fourth straight win.
And those numbers suddenly looked much, much worse as Scorchers started the second quarter with an 8-0 tear.
Slow starts to every period proved a recurring theme on an afternoon when nothing went right for the hesitant Eagles.
Even standout recruit Edwards was a shadow of his ubiquitous best as Friday's MVP laboured to just five points, five rebounds and two assists.
And MacLeod must have known his team's number was up when the normally reliable guard fluffed three free throws on the bounce late in the game.
Newcastle trailed by 20 heading into the fourth quarter and simply couldn't find the energy or the good looks to prevent back-to-back losses against ninth-placed Surrey.
Shooting just 36% from the field and converting three of their 21 three-point attempts, this was a road trip to forget for the out-of-sorts Eagles.
And it's back to the drawing board ahead of Friday's Vertu Motors Arena clash against struggling Manchester Giants.