| | | | | | | |
| --- | --- | --- | --- | --- | --- | --- |
| Surrey Scorchers | 26 | 22 | 16 | 24 | 88 | Win |
| Eagles | 24 | 15 | 20 | 25 | 84 | Loss |
After last week's home defeat at the hands of Leicester Riders, Coach Ian MacLeod had discussed the need for more defensive intensity and aggression from his team. Perhaps that message was taken a little bit too much to heart by his players.
In what was not only a disappointing loss but also a slightly surprising one the Eagles had a foul count of 22 – 11 go against them with three of their starting five in Evan Maxwell, Justin Gordon and Cortez Edwards all fouling out.
Watch highlights of your Eagles at Surrey Scorchers
Not that they didn't have their chances. Indeed, inside the last forty seconds they led 82 – 81 and Louis Sayers came up with a steal that gave Rahmon Fletcher and Edwards a two on one break. Surprisingly, the back court duo did not give their side the three-point lead that might have been crucial.
Instead, Surrey's Connor Cashaw drew an offensive foul from Edwards and Surrey went down the other end and Tony Hicks nailed the dagger three that put his side back in front for the last decisive time.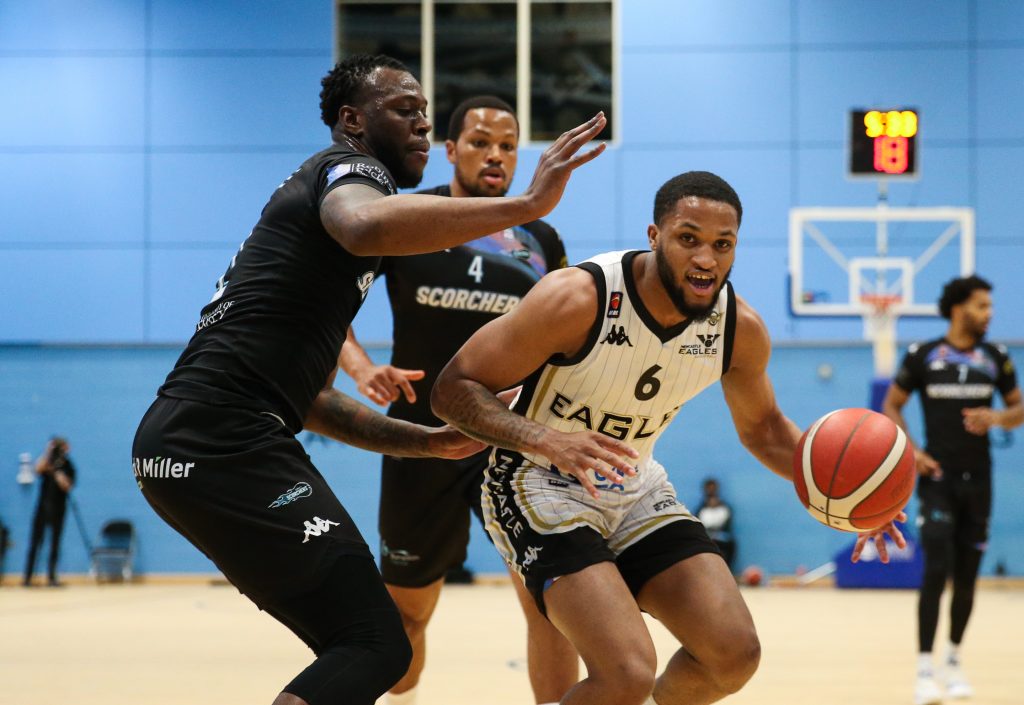 The Eagles simply ran out of time to change things back around and faced a long bus ride home to lick their wounds and once again search for answers to turn around a season that is, at the moment, going in the wrong direction.
Newcastle went into the game without the injured Rex Pflueger with Sayers stepping up to the starting five. Surrey were similarly one man down as they had been rocked by the news that influential Centre Ryan Richards had left the Club for richer pastures in Europe.
However, whilst the Eagles undoubtedly missed Pflueger's energy and defence, the loss of Richards seemed to galvanise the Scorchers who had four of their starting five in double figures and no-one in foul trouble.
Once again Fletcher and Edwards were outstanding for Newcastle and kept their team in the contest for long periods. Gordon was the other Eagle in double figures as he continues his rehabilitation from injury.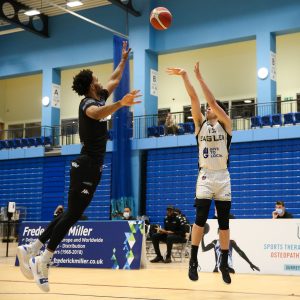 It was perhaps his lack of game time that contributed to four personal fouls in the final quarter as he tired but in truth, the Eagles needed a little bit more from their 'bigs' to carry the day. They didn't quite get that support and it did make a difference.
Newcastle and Edwards in particular made a great start to the game with the former Worcester man netting his side's first seven points. The visitors led 10 – 4 early and then started running into foul trouble which disrupted their rhythm and allowed Surrey to turn the game around and take the first ten minutes 26 – 24.
Scorchers continued that momentum into the second period and opened up a seven-point lead. Eagles hit back and a monster dunk from Gordon got them back to within two at one stage. But Surrey remained composed and together and by half-time led a fast-paced game 48 – 39.
A quick start was needed by the Eagles in the third quarter and that was what they got trimming the home side's lead to four before once again their opponents rallied and even took a double-digit lead at 62 – 52. Fletcher and Edwards though dragged their side back into the contest.
It meant that Eagles were only five down at 64 – 59 with ten minutes to play and the momentum seemed to have swung as they managed to close that gap and even retake the lead as the time ticked by.
It was close, very close and then those final forty seconds played out in the home side's favour meaning that Surrey held on to what was a superb win for them at this stage of the season. For Newcastle it's once again back to the drawing board for another long hard look at how to arrest the slide.