| | | | | | | |
| --- | --- | --- | --- | --- | --- | --- |
| Sheffield Sharks | 24 | 18 | 20 | 25 | 87 | Win |
| Eagles | 21 | 9 | 17 | 15 | 62 | Loss |
After a thrilling home victory over Bristol Flyers, the Newcastle Eagles travelled to Sheffield on Sunday night with high hopes of another victory.
In the end their hopes were dashed as they lost all four quarters on the way to a heavy defeat.
Friday's win had been built on a solid and positive all-round team performance. Hard to believe that inside 48 hours all of that was wiped away with another disappointing display against a side that on paper they should be matching.
It's less than a fortnight since Newcastle on a poor shooting night went down in front of the Sky Sports cameras to a 66 – 59 loss at Ponds Forge. With new recruits in the line-up and that first league win under their belts many expected Sunday to be different.
It was, but not in a good way. The Eagles only managed three more points than the previous effort but Sheffield with six players in double figures managed an additional twenty-one and only had two in double digit scoring.
All four quarters were lost although at the end of the first Newcastle were only down by three points at 24 – 21. Foul trouble certainly contributed to the defeat. Experienced forwards Darius Defoe and Donovan Johnson fouling out did not help their cause.
Neither did Jermel Kennedy, Javion Hamlet and Duke Shelton all being on four personals as well. But that's not the story of the game. On Friday night Newcastle shot the three-ball at 56%. Sunday it was only 22%.
Do you live and die by the long-range sword? Sometimes you do. But also only scoring nine points in the second quarter didn't help as once again the Newcastle offence was stifled by a very good Sharks defensive effort as they doubled that Eagles tally.
It meant that the sides went into the locker rooms at half time with Sheffield established in front at 42 – 30 and with the momentum in their favour. A momentum they carried into the third period and kept building and building so that the game was virtually over at the end of that period.
A fifteen-point gap in ten minutes is not insurmountable but it does feel like a long way back. Even the inspirational Javion Hamlet could not work his scoring magic and his back court partner David Cohn was outplayed by counterpart Saeed Nelson.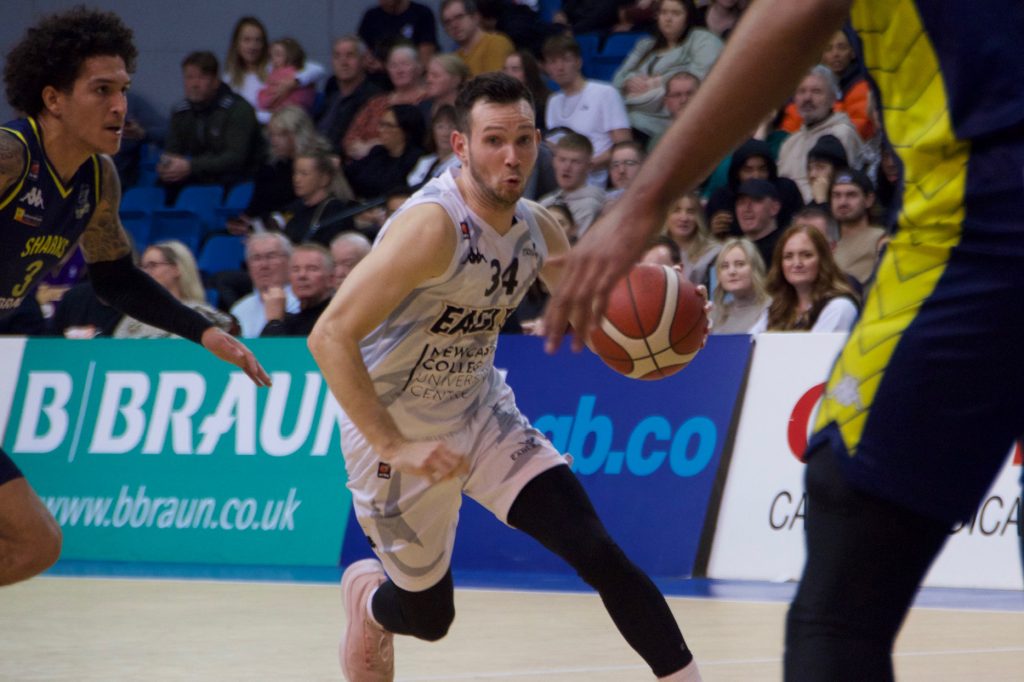 In fact everywhere you looked Sharks always seemed to have someone that stepped up when needed especially from the bench which weighed in with 43 points to Newcastle's 22. Second chance points were also a factor with the Eagles only picking up two offensive boards.
Sheffield certainly dominated in the paint throughout the game and this maybe one issue that Newcastle may have to look at very closely.
There is no doubt that they have talented players and scoring weapons but when they shots are contested and don't drop they don't appear to have a second option at present.
The lead peaked at twenty-eight at one point and Newcastle looked a well beaten and desponded side at the final buzzer which was in complete contrast to the look they gave on Friday night's winning effort.
It all means that they are now 1 – 5 in the BBL Championship race. A record they will not enjoy seeing and once again the thinking caps will have to go on and the drawing boards come out before Plymouth City Patriots arrive at The Vertu Motors Arena this coming Friday in front of the Sky Sports cameras.