| | | | | | | |
| --- | --- | --- | --- | --- | --- | --- |
| Eagles | 23 | 25 | 20 | 21 | 89 | Win |
| Bristol Flyers | 19 | 21 | 20 | 18 | 78 | Loss |
Newcastle Eagles snapped their four-match BBL Championship losing streak with a thrilling 89-78 victory over Bristol Flyers.
After the club's worst start to a league season since 1991, new head coach Marc Steutel's side put in a display that combined highlight-reel flair with dogged determination to finally break their duck.
Watch highlights of Eagles vs Flyers:
Guard David Cohn was the star man for the Eagles, finishing just shy of a double-double with 20 points and nine assists, carving up the visiting defence. Jermel Kennedy and Javion Hamlet added 17 and 15 points respectively on a productive night all around.
It has been a difficult start to the season for Newcastle with a number of summer signings already gone and a host of even fresher faces arriving in their stead. Great Britain international Kyle Johnson and former Plymouth star Denzel Ubiaro, both signed this week, were left on the bench, though Steutel did give Donovan Johnson his first start.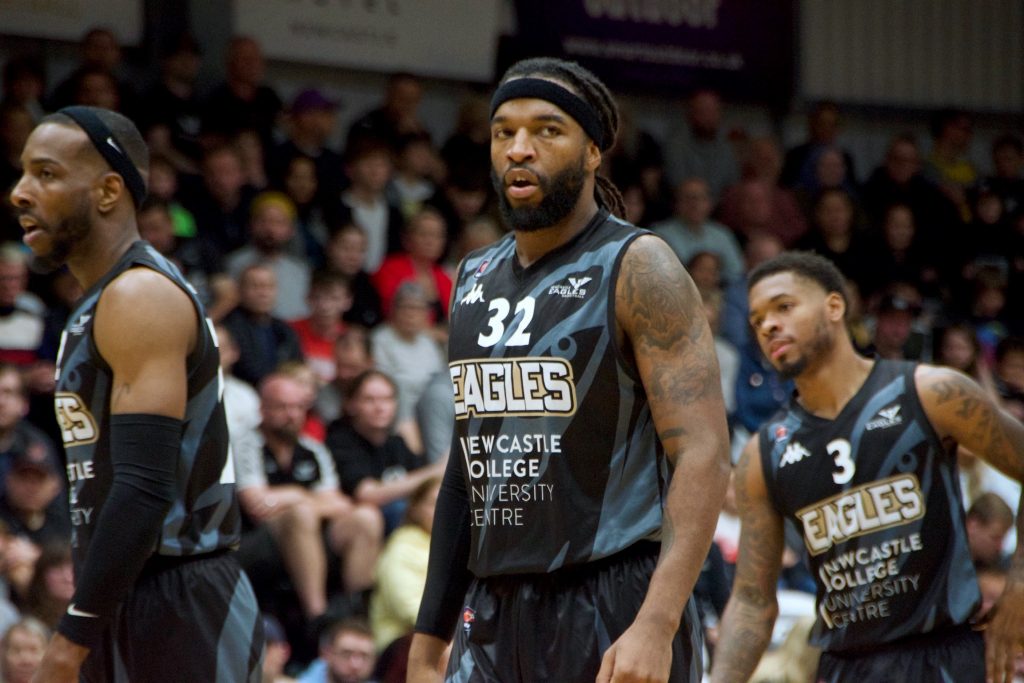 A pre-match display from Wor Flags got everyone in the Vertu Motors Arena on their feet and a scintillating first quarter kept the home fans on them. Both sides moved the ball at pace, creating chances and causing chaos in the opposing defensive ranks, though Newcastle's shooting was the better of the two sides.
Guard Cohn showed his quality from the very first minute, creating numerous opportunities for team-mates and himself, as the Eagles built a slender lead. The previously unbeaten Flyers showed why they came into the game second in the table, able to generate their own chances but their usually good three-point shooting eluded them.
Watch Game MVP David Cohn's Highlights:
A pair of free-throws rounded off the scoring towards the end of an electrifying first 10 minutes that saw Newcastle hold a 23-19 lead.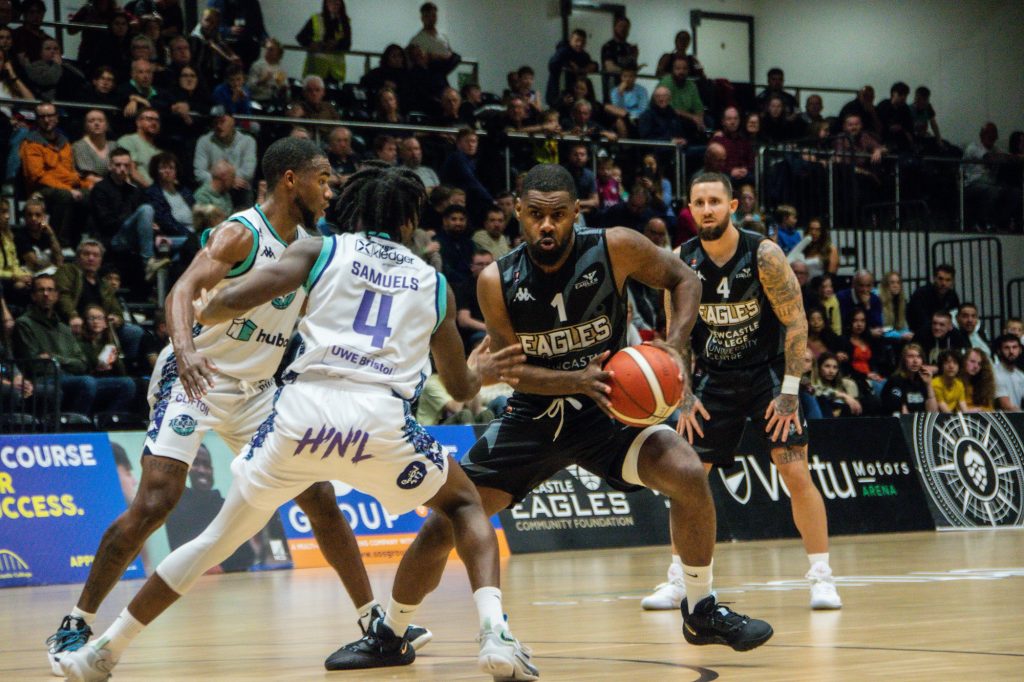 Neither side came out with the same offensive fluidity early on in the second period, turning scrappy but no less intriguing. After a quiet spell, both teams traded baskets and there was little to separate them.
But Hamlet showed why he is one of the BBL's top scorers this season, converting chances late on to give Newcastle take a 48-40 half-time advantage.
But as the third period progressed and the Flyers made it a one-point game – the Eagles leading 57-56 – the nerves began to creep in. Newcastle's inability to control a game for all four quarters has been their downfall on a number of occasions already.
This time, however, the Eagles rallied themselves with a crucial eight-point burst in the space of 90 seconds. Jermel Kennedy was the key man, first showing hustle to set up Darius Defoe and then scoring a three-pointer, before Ben Mockford repeated the feat.
The home side went into the final quarter with a 68-60 lead but Bristol were in no mood to let their winning run end with a whimper.
Again, they quietened the VMA by halving the deficit. But again, Kennedy and Cohn came up with important contributions, giving the hosts a double-digit lead and grounding the Flyers seemingly for good.
Duke Shelton then put the exclamation mark on the result, first scoring an alley-oop after a pass from Cohn – who else? – to give the hosts an 80-68 lead. He then sent the crowd wild with an emphatic block, celebrating jubilantly four minutes from time, sensing victory was nigh.
They saw out the game without too much trouble, a roar erupting as the final buzzer sounded on Newcastle's first league win of the campaign.
The Eagles will look to build on their triumph tomorrow when they travel to Sheffield Sharks for the BBL and WBBL double-header. It's a 4.30pm start at Ponds Forge for the men, following the women's game tip-off at 1:30pm. Both games will be available to watch online from the leagues' YouTube channels.