| | | | | | | |
| --- | --- | --- | --- | --- | --- | --- |
| Okapi Aalstar | 18 | 20 | 21 | 21 | 80 | Win |
| Eagles | 19 | 14 | 15 | 19 | 67 | Loss |
After their 93 – 52 drubbing at the hands of Spirou Charleroi, the Esh Group Eagles Newcastle had less than 24 hours to recover and look for a better performance against their second opposition of the weekend, Okapi Aalstar, writes Jeff King.
In the end they managed to do both although it was not quite good enough to get them over the line and take what would have been a meritorious road victory against a side that finished fourth in the Belgian Euro millionaires League last season.
But it wasn't for the want of trying and all round The Eagles performance was so much better than Friday night. Defensively they were more solid and on offense they simply had plenty of opportunities that with better finishing would have seen them come close to a shock win.
Head Coach Fab Flournoy went back to tried and trusted to allow his new boys to watch from the bench as a veteran starting five averaging over 34 years of age including himself alongside Drew Lasker, Darius Defoe, Kai Williams and Rahmon Fletcher.
Early on it paid great dividends as Newcastle spurted out to a 9 – 2 start with Fletcher and Defoe impressive. Eagles still lead 15 – 10 when they called a time-out to combat a strong Aalstar comeback.
The home side managed to close the gap to one and it was nip and tuck thereafter with Victor Moses coming off the bench to net six points enabling Eagles to lead 19 – 18 after the first quarter. Aalstar though came out in the second in really determined fashion and a 9 – 0 run pushed Newcastle back.
Kai Williams halted that run and scored five straight of his own and when Moses netted again the visitors were right back in it and only down a single point at 33 – 32. Aalstar rallied again and closed out the half with five points to lead 38 – 33 at the break.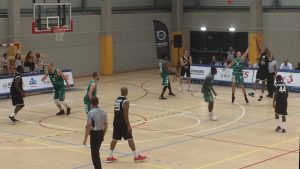 But, it had been a great effort from The Eagles who showed great energy, real intent and much better defensive organisation and with Moses really coming to the party leading his team with 13 points in the opening 20 minutes.
If Flournoy's men had been good in that first half they started the second in even better style. Fletcher really began pulling the strings and started to dominate as he pushed his side to a superb 15 – 2 run that gave them a 48 – 40 lead and real hope of landing a win.
However, Aalstar's response was impressive as they came back in fine style with nineteen unanswered points to go back in front at 59 – 48 with ten minutes to play. At this point Newcastle's outside shooting from 3-point range had seen them not net one in 19 attempts.
Kai Williams stopped that statistic and then hit another one as Eagles closed twice within four points of their hosts and it was game on. Unfortunately, Moses picked up a slight injury and wasn't risked further after grabbing ten rebounds.
Jamal Williams unsportsmanlike foul saw him leave the game and gave Aalstar just the emphasis they needed as a six-point swing occurred and they were able to close out the game despite The Eagles effort.
The Eagles coaching staff were though full of praise for the way that the team had come together and played together particularly after Friday's defeat. It's a small step but the improvement and ability were there for all to see and made the whole Belgian adventure a trip well worth taking as The Eagles return home to build for the forthcoming season.