| | | | | | | |
| --- | --- | --- | --- | --- | --- | --- |
| Spirou Charleroi | 23 | 19 | 23 | 28 | 93 | Win |
| Eagles | 15 | 8 | 16 | 13 | 52 | Loss |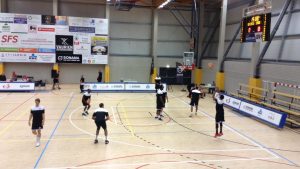 Esh Group Eagles Newcastle tipped off their 2018/19 campaign in the far-flung lands of Neufchateau, Belgium against crack Belgian Millionaires outfit Siprou Charleroi and there were hard lessons to learn as they fell to a crushing defeat.
However, it must be remembered that this was Newcastle's first game together as a new-look unit and after only three days of practice it proved a task too far. But, far better games against opposition of this quality to test and find out about yourselves.
Charleroi are without doubt a fine side that have been built for Champions League basketball and Europe in mind and they showed a physicality and ball movement that the Eagles couldn't match at any time.
Eagles returning talisman Rahmon Fletcher was shackled for long periods of the game by a stifling Belgian defence that had obviously done their homework on the mercurial point guard. Every time he picked up the ball he was driven back by often two defenders as Charleroi showed their strength.
It was one of the Williams trio, Kai who had the honour of scoring Newcastle's opening basket of the season as he cut a 4 – 0 home start. The Belgians though looked in the mood and their physicality around the basket at both ends earned them rewards as they took the first quarter 23 – 15.
The second saw a real defensive master class from the red-shirted Belgians as they locked down Newcastle through that ten-minute period. So much so that Newcastle only had new boy Victor Moses solitary basket to their name until two free-throws from Jamal Williams with 2:50 to go double their tally.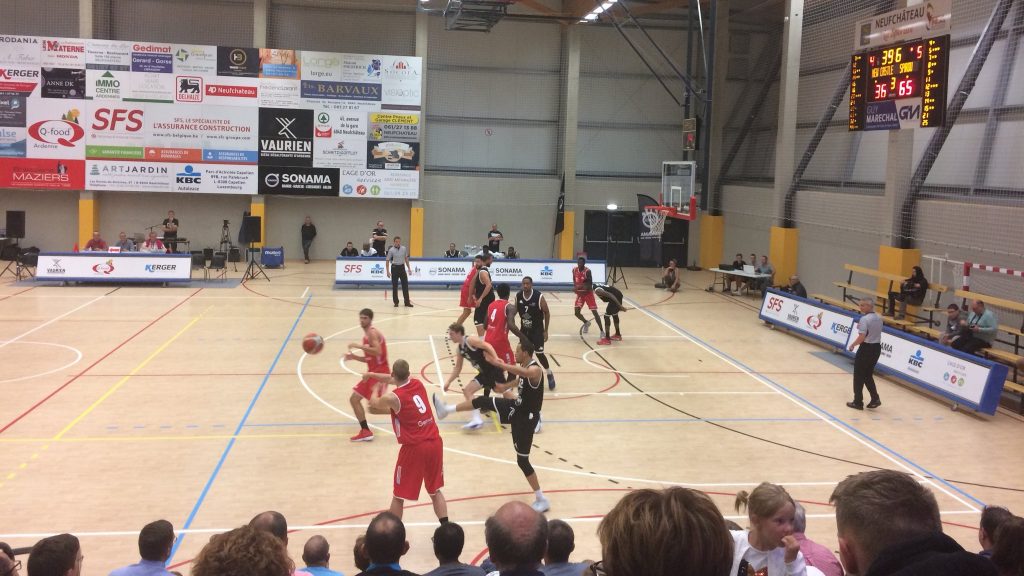 Eagles two rookies Kyle Williams and Ahmad Thomas has shown some nice touches and plays but against officiating that wasn't necessarily bad but certainly different to anything they encountered in college they couldn't find a way through.
Newcastle only managed eight points in the quarter which meant that they trailed 42 – 23 at the break. Spirou had certainly looked a step quicker and with an extra week's practice under their legs it was evidence enough of their superiority with a half to play.
The Eagles certainly stepped up their aggression in the second half and looked to do the simple things quicker, better and smarter and a 7 – 2 run that included two lovely Thomas passes to Darius Defoe one for a spectacular dunk had Charleroi call a time-out with Flournoy's men back to within 14 at 44 – 30.
The time-out certainly focused the home side as they can roaring off the bench to put the Eagles away in spectacular style. Suddenly it was back to back triples from Captain Alex Libert that formed a 16 – 2 run and the game was effectively over.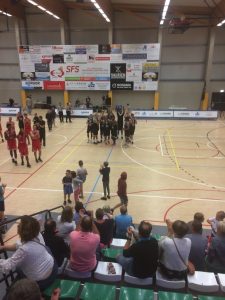 Defoe battled hard amongst "the trees" for his side and was the only Eagle in double figures but by the end, Newcastle were a well beaten side as Charleroi's all-round strength and power was decisive as they stretched away.
This was certainly not the start that Flournoy would have wanted but there were some encouraging signs from his fledgling Eagles as they never let their heads go down and certainly were up for a fight against a very physical side.
Tonight they face Okapi Aalstar in their second game of this tough, learning trip and they will be looking to build on the positives and tweak those mistakes against another very good top-flight Belgian side.