| | | | | | | |
| --- | --- | --- | --- | --- | --- | --- |
| Plymouth Raiders | 21 | 20 | 10 | 26 | 77 | Win |
| Eagles | 18 | 14 | 18 | 26 | 76 | Loss |
At the end of any basketball match the only statistic that matters is the final score. But ultimately in the disappointing one-point defeat yesterday afternoon there may be others that are just as telling for Newcastle Eagles and Head Coach Ian Macleod.
Shooting only 2 of 23 from three-point range in a single-digit loss is huge. Plus, one of those only two made triples came on the game ending buzzer when the Eagles were already four points down so it hardly mattered.
Watch highlights of Eagles vs Plymouth Raiders
Add in eight missed free-throws from the not so charitable stripe for the visitors and it's perhaps those statistics that may well have been the Eagles undoing in the end. Plymouth meanwhile made double the Eagles made three-point efforts from only 11 attempts and only missed three from the free-line from the same 22 attempts Newcastle had.
But, as ever it's not always about statistics. Yes, Newcastle clearly struggled and also had two costly technical fouls called against them as at time their frustrations boiled over but in truth they never seemed as fluid or consistent as they had been three nights earlier against London.
They started brightly enough and when Evan Maxwell slammed home a big dunk and Rahmon Fletcher followed up with a deuce to give Eagles a six-point lead in the first quarter, Plymouth's BBL November Coach of the Month Paul James called a time-out to steady the ship.
It was perfect timing as the home side responded superbly with the introduction of Elliot Sentence inspiring them to a 13 – 4 finish to the first ten minutes to take a 21 – 18 lead into the second quarter.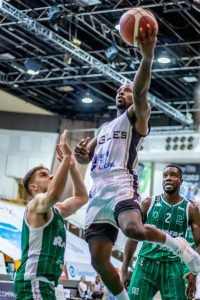 As Eagles kept missing Raiders kept punishing them in the run-up to the half-time hooter. Ashley Hamilton's triple giving them a 32 – 22 advantage as Macleod called time-out. This stemmed the flow and Maxwell, Sayers and Fletcher cut the gap to four points.
Back came Plymouth led by GB International Hamilton as they reasserted authority and nudged further ahead taking an 11-point lead before Cortez Edward's last basket of the half got his side back to within single figures again.
The third quarter was Newcastle's best and showed their defensive prowess to the full. They held the home side to a mere ten points in ten minutes and responded with eighteen of their own to make it a one-point ball game at 51 – 50 going into the final ten minutes.
In truth the defensive stops had given the Eagles a chance to really establish themselves in that 3rd period and although they were very much back in the game, they may have ultimately missed an opportunity to force the game open.
Darius Defoe's opening bucket of the final quarter gave Newcastle their first lead since the opening one and they looked the likelier at that stage. However, the home side had other ideas and took the battle back to the visitors with decisive 16 – 5 run to give them a 67 – 57 lead.
Fletcher tried to take the game over but even doubling his own personal score in the final period was not enough for his side to prevail. Raiders finally managing to close Maxwell down as the minutes ticked by was also crucial as the big Newcastle centre had looked to be the man most likely to support his Captain.
The final nail was entered into the Eagles coffin as Plymouth's Chris Porter-Burton knocked down two free-throws to give his side the unassailable four-point gap that made Gordon's triple on the buzzer irrelevant.
A long journey home then for a disappointed Eagles side and plenty of time to ponder on a game that they could have and perhaps will be thinking should have won.