| | | | | | | |
| --- | --- | --- | --- | --- | --- | --- |
| Eagles | 20 | 18 | 17 | 33 | 88 | Win |
| London Lions | 22 | 15 | 15 | 27 | 79 | Loss |
Flash Gordon on the TV? It must be nearly Christmas.
As the BBL returned to Sky Sports, Justin Gordon took the opportunity to treat a nationwide audience to a very special highlights reel.
Watch highlights of Eagles vs London Lions
And Newcastle fans will be demanding repeats of the colourful forward's double double for years to come.
Gordon bagged 26 points and 11 rebounds but the young apprentice was almost upstaged late on by the mercurial master Rahmon Fletcher.
And it was the Eagles' guard's late flurry of fourth quarter threes that saw the hosts home on a night to remember for the men in black.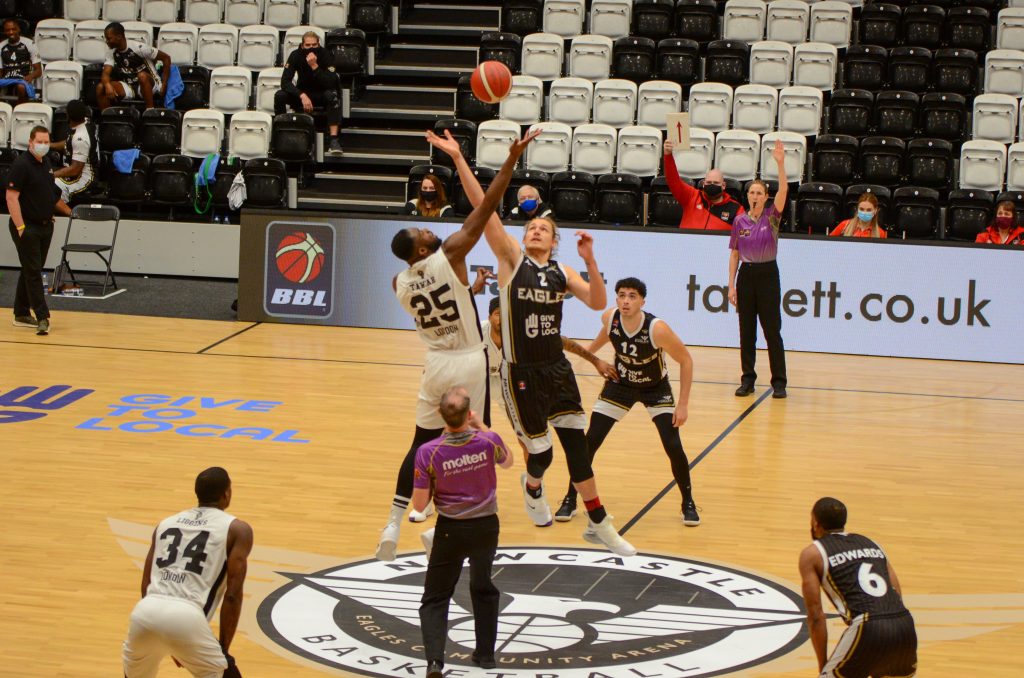 The last time the two teams met on Tyneside it was the tale of the triples that defined a hard-fought cup tie.
Newcastle managed a paltry three from 26 from three-point range as London sank 11 or their 28 attempts from beyond the arc.
And the Lions closed out a comfortable 20-point victory on the back of some outstanding long-range shooting.
Two weeks on and there was an unnerving sense of déjà vu as the visitors edged a fiercely competitive first quarter thanks to their superior three-point haul.
London converted a remarkable six threes inside the first 10 minutes as Newcastle missed all five of their hurried attempts from downtown.
And Eagles' playcaller Ian MacLeod must have been tearing his hair out as the Lions were gifted acres of space on the perimeter time and time again.
The hosts were clearly missing the defensive nous of Rex Pflueger but the dual national guard missed a third successive fixture.
Returning from Great Britain duty earlier this week, the Notre Dame graduate aggravated a minor injury in practice and looks doubtful for Sunday's trip to Plymouth.
That meant more minutes for Louis Sayers and dependable benchman Drew Lasker.
And the latter tasted his first action six minutes into a thrill-a-minute league opener — just 90 minutes after wrapping up his first stint as a courtside analyst for Sky.
The busiest man in British basketball was flattened in the paint just seconds later by heavyweight centre Kingsley Okoroh.
But after checking his teeth like the ultimate TV pro, Lasker was back on his feet and back in business — like the ultimate BBL pro.
London might have been raining down threes but it was Evan Maxwell and Gordon who were whetting the appetite of Sky's armchair fans.
Both Newcastle rookies dunked on their big-name rivals to keep the hosts in contention and keep the cameramen keen.
A thrilling advert for domestic hoops had delivered early doors and the momentum didn't slow during an equally compelling second quarter.
And Gordon looked more like the all-action forward who burst onto the BBL scene earlier in the season as he added six big boards to his 14 first half points.
The Eagles led 38-37 heading into the third period and seconds after the restart Gordon was at it again — somehow contorting his body to pluck a one-handed pass from the sky and converting off the glass.
Newcastle, diligent in defence and efficient on offence, took a three-point lead into the final quarter.
Significantly, the hosts had conceded just four fouls in 30 minutes and restricted Lions' former NBA star Deandre Liggins to two points and two rebounds.
A fascinating battle of wits had become TV gold but Fletcher saved the best for last with a shooting masterclass down the stretch.
The two-time BBL MVP hit nine straight Eagles points to open up a 71-61 lead and pile the pressure on Vince Macaulay's big money roster.
It was pressure that London simply couldn't handle.