London Lions dished out their latest lesson in total team basketball as short-handed Newcastle Eagles felt the full force of a red hot WBBL roster.
Noelia Cacheiro's side failed to build on Saturday's superb victory at expansion franchise Gloucester City Queens as they faced a second road test in two days.
But remodelled Newcastle now have two weeks to get key players fit and double down on the club's new identity ahead of their critical March 25 showdown with Caledonia Pride in The Big One.
With the battle for a top eight finish gathering pace, that mid-table scrap with the Scots is set to attract a record-breaking crowd for a WBBL Championship clash.
And with women's basketball in sharp focus, the beaten but unbowed Eagles cannot allow another chastening loss at the hands of title favourites London to distract them from the bigger picture.
Right from the tip Newcastle faced serious pressure from the Lions just 14 hours after wrapping up a commanding win in Gloucester.
Crazy scheduling — coupled with the absence of Rachael Bland and Ori Chukwu-Etu — hardly helped the Eagles' cause.
And a London team boasting a perfect 13-0 Championship record was never going to take pity on Cacheiro's short-handed roster.
A Marina Fernandez two-pointer levelled things up after Great Britain star Kennedy Leonard had opened the scoring.
But a brutal 10-0 Lions tear set the tone for a one-sided affair as the merciless hosts homed in on yet another huge league win.
Maddy McVicar aced a triple to halt London's scoring run as weary Newcastle emerged from a Cacheiro timeout.
And an eye-catching coast to coast burst from Fernandez reduced the deficit to six points.
But London added another 10-0 burst to cap the quarter and take a 23-7 lead into the second period.
To the Eagles' credit, the battling visitors upped their offensive productivity after the restart to more than double their first quarter tally.
Fifteen hard-fought points kept the Lions keen but Mark Clark's stacked bench and international stars maintained their relentless march towards victory.
London led 48-22 at the half with no fewer than nine scorers packing the stat sheet — the outstanding Cassie Breen bagging 11 points in just eight minutes off the bench.
Newcastle needed all hands on deck but three first half fouls on Dora Cipcic was a hammer blow for the visitors.
The in-form guard took the MVP honours in Gloucester the previous night but Sunday's officials were quick to punish another typically aggressive display from the committed Croat.
And that left Cacheiro with even fewer options as McVicar, Jessica Eadsforth-Yates, Chloe Gaynor and Layne Murphy were forced to play all 20 minutes of a punishing first half.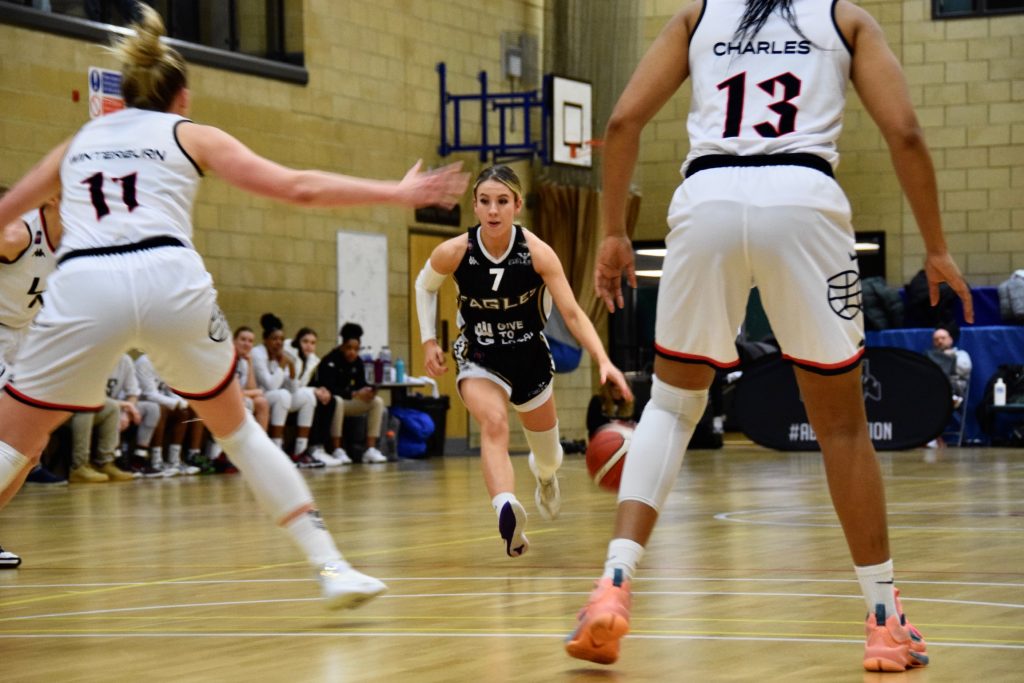 London had already soared past the Eagles once this year to wrap up the 2022 WBBL Cup final in style.
And another Lions win was never in doubt as the hosts continued to pour in the points during the third period.
Cipcic returned to the fray midway through the quarter with Eadsforth-Yates — still feeling her way back from a six-week injury layoff — in desperate need of a breather.
But a fourth foul on Murphy posed a fresh challenge for coach Cacheiro with the final quarter looming large.
Newcastle trailed 71-31 with 10 minutes on the clock and it was time for emerging star Mollie Arnold to make her presence felt down the stretch.
That the Eagles' youngster was handed more invaluable court time against elite opposition was one of the few positives to come out of a tough trip to the capital.
But Cacheiro and co. can take solace in the fact that Saturday's vital win at Gloucester leaves Newcastle well and truly in the playoff mix.