| | | | | | | |
| --- | --- | --- | --- | --- | --- | --- |
| Essex Rebels | 20 | 22 | 13 | 35 | 90 | Win |
| Newcastle Eagles WBBL | 26 | 24 | 12 | 20 | 82 | Loss |
A beaten but unbowed Ali Gorrell bagged the highest individual score in WBBL Championship history as Newcastle Eagles slipped to an agonising defeat at Essex.
Newcastle's in-form skipper dropped a massive 40 points on the homecourt Rebels.
Watch highlights of Eagles WBBL vs Essex Rebels
And Gorrell added an eye-catching 12 rebounds, five assists and three steals on a career-cementing afternoon in the South East.
But the hot-handed American was in no mood to celebrate a dizzying personal high as her Eagles slipped to a cruel eight-point loss down the stretch.
Two teams running energy-sapping eight-player rotations went toe to toe for 38 minutes of another thrilling WBBL clash.
Newcastle led for most of the game with Gorrell, Abby Lowe and Maddy McVicar once again proving their worth to head coach Chris Bunten.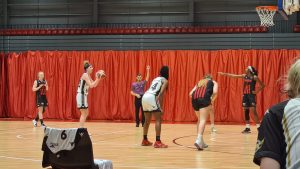 And it was only inside the final 120 seconds that another fatiguing road trip finally caught up with the gutsy visitors as the Rebels closed out the win.
Gorrell, who rejoined the Eagles this summer, broke her own franchise record high of 38 points for Team Northumbria against Barking Abbey in 2017.
And the all-action guard fell one point short of the all-time scoring record of 41 points in the WBBL Cup.
But it was Gorrell's never-say-die attitude at both ends of the court that kept the Eagles in a game that always looked too tough to call.
The former Sheffield star hauled down an immense 10 defensive rebounds to restrict the Rebels to just eight second chance points.
And another record-breaking tally of 30 points at the half looked set to pace the visitors to a second successive away win.
But Gorrell couldn't recapture that red hot first half form as Essex finally locked down Newcastle's prolific points machine after the break.
The hosts began to make their size advantage count as Deangelique Waithe and Lucrezia Costa combined for 25 boards.
And when Deborah Rodríguez-Pérez fouled out with four minutes to play, the Eagles suddenly found themselves exposed in the paint.
Prior to picking up a fifth foul the Spaniard had enjoyed an impressive debut for Newcastle after signing for the club last week.
Eight rebounds in 18 minutes frustrated the Rebels and allowed Abby Lowe and Jorjah Smith to catch their breath on the bench.
And Rodrígues-Pérez already looks like a valuable asset as Bunten seeks to rotate a wafer-thin roster through February.
For the second successive week Gorrell and Maddy McVicar, who netted 16 personal, played every minute of the game in an Eagles vest.
And Lowe backed up last Saturday's MVP performance against Oaklands Wolves with 12 points, five assists and three steals after retaining her starting five spot.
On a day when Newcastle converted 12 of their 36 three-point attempts Bunten might be wondering how his battling side came away from the Rebels base without the points.
But in the cold light of day the Eagles' playcaller will look back on another determined display with pride.
An overtime win against the Wolves, followed by a fighting loss in Essex, should give a team in transition all the confidence they need heading towards the business end of the season.
And if Gorrell couldn't add a victory to her record-breaking haul then the shooter's rich vein of form will have rivals across the WBBL running for cover next month.
View this post on Instagram
Newcastle return to action on February 14 and with their co-captain in seemingly unstoppable mood few would bet against a Valentine's Day massacre against Cardiff Met Archers at the Eagles Community Arena.