| | | | | | | |
| --- | --- | --- | --- | --- | --- | --- |
| Plymouth Raiders | 16 | 25 | 16 | 28 | 85 | Loss |
| Eagles | 27 | 25 | 22 | 29 | 103 | Win |
It's starting to look like a very promising season indeed for Esh Group Eagles Newcastle as the league leaders rolled in to Plymouth this afternoon and came away with another excellent road win. It moves their record to 5 – 0 so far in the early going of the campaign but the juggernaut is really beginning to gain momentum.
Just as on Friday night, Jeremy Smith and Victor Moses led the scorers but there were also double-figure contribution from Rahmon Fletcher, Darius Defoe and the Williams brothers Jamal and Kai. In the case of Fletcher and Moses it was another remarkable double-double individual effort with the former adding 16 assists and the latter 16 rebounds.
The rest of The BBL will certainly be taking note of the side that Head Coach Fab Flournoy and his coaching staff have gathered together and together is certainly the keyword as this bunch of players continue to grow as a team. Right now, they look like a well-drilled unit that is gelling superbly and really playing for each other.
"Relentless" is a word on-court general, Fletcher, was quoted as saying when asked what the Eagles have to do to win this season and relentless seems to be what they are producing as they once again crashed through the 100-point barrier for the fourth time in a row in securing another dominant victory.
Apart from a brief spell in the second quarter and then again at the beginning of the second half when they got back to within four points, Raiders simply had no answers to the irresistible force of Newcastle's all-round strength and power. It seemed as if every time they threatened, Fletcher turned it back up a notch and found his team-mates time and time again.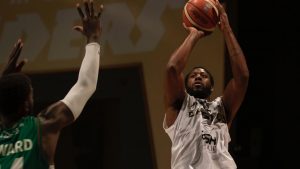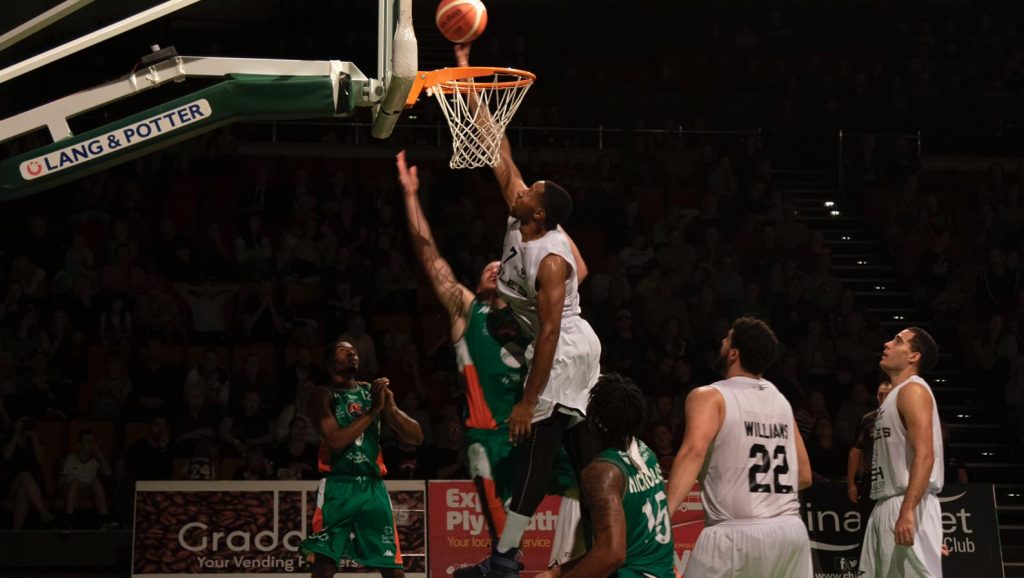 It was a master class from the mercurial point guard and with the way the likes of Moses and Smith are responding to his prompting it's going to need a good side producing a very good performance to slow the high-flying Eagles down. Especially with the supporting cast around them and a special nod must go out to team captain Defoe.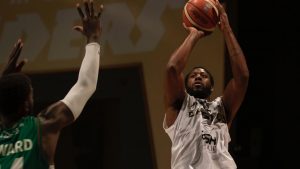 The veteran forward has accepted a role from the bench after being a long-time starter for his side and is responding superbly, staying out of foul-trouble and contributing double-digit efforts in all the games so far. He is perhaps the epitome of Flournoy's brand of Eagles basketball at the moment as he supports superbly when called upon.
Plymouth actually took the lead in this game but a telepathic Fletcher assist to the swooping Moses got Newcastle on the board and then runs of 9 – 2 and 9 – 0 established a double-digit lead early on and it was a lead the visitors never relinquished with Moses in double figures after only one period.
Defoe came to the party in the second and his deadly mid-range shooting saw the Eagles soar to twenty-point lead. Raiders did rally some but with Smith now also in the groove Newcastle were well in control and went to the locker room at the half 52 – 41 ahead.
The home side's burst of 9 – 2 cut that Eagles lead to four but Jamal Williams showed his side's team ethic by dropping in six points to spark another 14 – 4 burst. It was game over from that point as despite Plymouth's battling efforts, the visitor's deeper bench and superior team play saw them remain on their lofty perch at the top of The BBL.