| | | | | | | |
| --- | --- | --- | --- | --- | --- | --- |
| Cheshire Phoenix | 21 | 21 | 18 | 12 | 72 | Loss |
| Eagles | 21 | 23 | 15 | 20 | 79 | Win |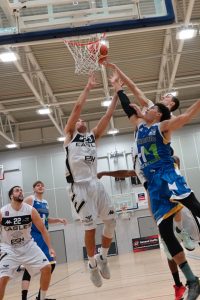 The Esh Group Eagles Newcastle got back to winning ways in Cheshire last night after Friday's disappointing loss against Sheffield in the Trophy Quarter Final, writes Jeff King. In a tough, tight affair, The Eagles came good in the final quarter to take a vital road win.
With only the League Championship and Play-Offs up for grabs and no Cup Final appearances to look forward to this season it was essential that Fab Flournoy's team kept their recent unbeaten league run going which they did with a fourth consecutive win.
They had to battle a very committed home side who perhaps could have been forgiven for not being fully focused with a BBL Cup Final only a week away. However, The Phoenix put that forthcoming occasion at the back of their minds and gave Newcastle a great battle before finally succumbing.
The game see-sawed one way then the other throughout forty pulsating minutes with no less than 13 lead changes and 6 tied occasions in the four quarters. The biggest lead either time had was the away side's final seven-point margin with Eagles which showed there was no quarter given or taken in an absorbing contest.
Newcastle did lead for the majority of the game but could never quite shake off their dogged opponents until great composure down the stretch when the game was on the line. The Eagles and The BBL's leading scorer Jaysean Paige recovered from a game he'd like to forget on Friday night to once again lead his team in scoring.
His main support came from Captain Darius Defoe, point guard Saah Nimley who had ten points and the excellent Jamal Williams who came up huge for his Coach and his team-mates with his best performance in an Eagles vest so far.
It wasn't just William's 18 points but also his defensive efforts as in conjunction with Defoe they held Cheshire's main scoring threat this season, C J Gettys, to a mere 10 points all game way below his season average and this factor was a huge part of The Eagles win.
Williams opportunity to shine came courtesy of an unfortunate game-ending injury to Forward Terry Martin who damaged his foot after only just over a minute of the game gone. Williams certainly showed the value of having a deep roster as he covered Martin's absence superbly.
He included four of four triples in his final tally and added in five rebounds for good measure, showing exactly why Newcastle were persuaded to sign him when he became available back in November.
As for the game? 21 – 21 after the first quarter, The Eagles took the second by two points to lead by 44 – 42 heading in to the locker rooms. Cheshire came out in the second half and took the third by a three at 18 – 15 to start the final period one point in front.
But that fourth quarter belonged to Newcastle and a strong defensive performance which restricted Phoenix to only 12 points whilst they netted 20 of their own turned that one-point deficit in to a massively important seven-point road win.
Flournoy and his team can now draw breath after a tough, tough and mixed weekend. There's no doubt that the Trophy defeat hurt them deep but at least they've kept their Championship challenge on track.
They now have almost a fortnight's break before they take to the court again to rest, recuperate, re-group and re-focus before The BBL's bottom club and fellow Esh Group sponsored outfit Leeds Force come to Sport Central on Friday 2nd February.