Newcastle Eagles' togetherness, toughness and ability has been severely tested over the last eight days but they've come flying through them in magnificent style. Four games played and all four won is some achievement and a great early Christmas present.
Head coach Ian MacLeod spoke on Friday night after the win over Worcester that Newcastle still had work to do and his players rallied to his call. It was a tight one and at times it wasn't pretty. But a win is a win no matter how many it's by and Eagles will take this one in great heart.
Watch Eagles at Phoenix
Eagles were led by birthday boy Justin Gordon who growing up could probably never have anticipated celebrating his 27th birthday on a basketball court in North West England. But celebrated he did and in fine style top scoring for the Eagles with 22 points.
He was not alone though as once again an all-round team effort including a season best showing from local lad Eddie Matthew who came off the bench to great effect saw the visitor's home by the tightest of margins.
Indeed, it was Gordon's two cool as ice free-throws with a smidgeon over 5 seconds on the clock that sealed the deal for the Eagles and took them to an impressive 4 – 1 record in the BBL Championship.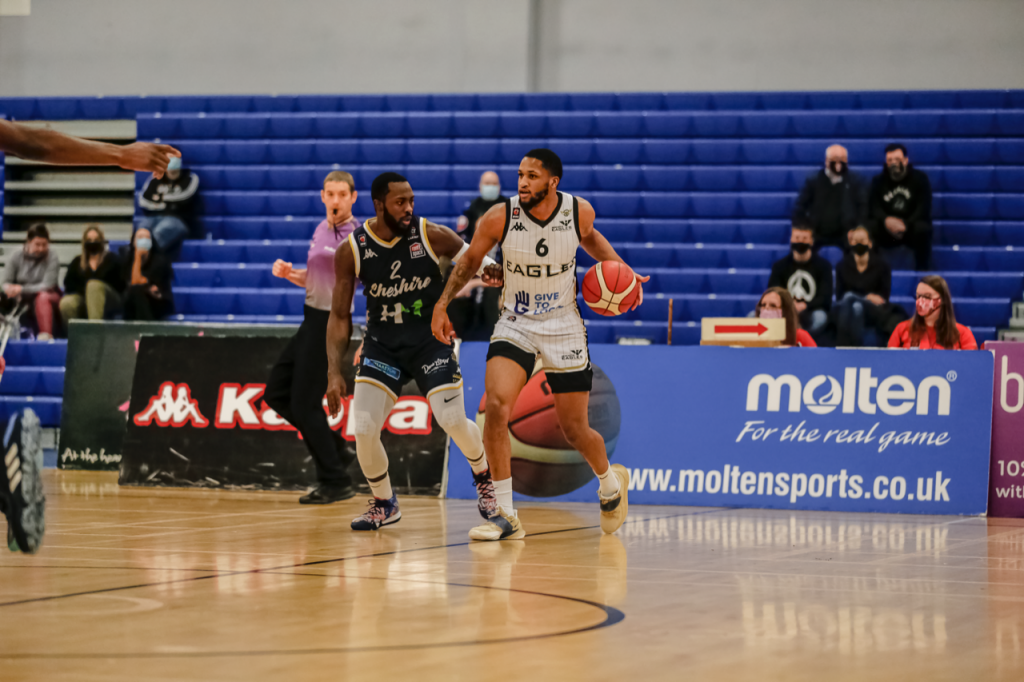 Evan Maxwell weighed in with his usual effect notching 19 points whilst Cortez Edwards had 15. Matthew's contribution was an excellent 12-points and Rahmon Fletcher. Well, only 9 points from the skipper but a magnificent 14 assists as once again he pulled the strings for his side.
The Eagles actually made a flying start to a game that would ultimately see-saw back and forwards before the late dramatic ending. A blistering start from both Gordon and Maxwell had them up 22 – 8 in the first quarter.
Phoenix came back after a time-out but Edwards final bucket of the quarter meant the visitor's finished the first quarter with a ten-point advantage at 27 – 17 which they kept going in the second.
Darius Defoe deuce midway through that ten minutes gave Eagles a 14-point lead but then a timely call from Phoenix's Coach Ben Thomas got him time to talk things over. What a transformation it was as well.
Phoenix poured in thirteen unanswered points to get back to within one and although Fletcher stopped the run with a well-timed triple the home side had the momentum. With Kahron Ross prominent and big Jimbo Lull causing havoc they took their first lead on Lull's three-pointer.
A lead they held into the locker room at 46 – 43 as they produced a 29 – 16 turnaround to give Newcastle plenty to ponder in their half-time talk.
Whatever Coach MacLeod said to players obviously worked as they tightened their defensive screw and continued to score at the opposite end. Little runs throughout the third quarter saw them establish a 67 – 59 lead going into the final period.
But Cheshire were not finished and in a rip-roaring dramatic final run down the actually managed to cut the gap and take an 84 – 83 lead.
Then up stepped birthday boy Gordon to nail the two free-throws to put Newcastle back in front and then he joined his teammates in one last great defensive stand to stop Phoenix and take a memorable road victory.
An exciting and exhilarating encounter in Tier 2 Ellesmere Port was witnessed by a well-marshalled and COVID safe 170 home fans. They may have enjoyed the experience but not the result as Newcastle completed a very memorable week in dramatic style.