Esh Group Eagles Newcastle get their season back underway in Sheffield tomorrow night after an enforced break following their tough home loss against Leicester Riders, writes Jeff King.
Danish International and one of the success of The Eagles season so far, Zarko Jukic, summed up the feelings in the camp following that loss, the break and the upcoming game against The Sharks.
"We've had three losses in a row now in the league. That Leicester loss was a very tough one. It was a very close game with ups and downs on both sides. We could have easily won that one I just felt that we lacked consistency at the end of the game."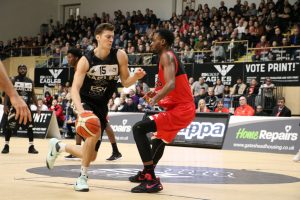 "We also missed a lot of easy shots. I thought we played all right but credit to them they did a good job of executing especially at the end as we collapsed a little bit. Throughout the game we had some minor mistakes that cost us."
"It was an either-way game with those 50/50 balls so yes it was a tough lose. We've just get our heads back in the right place after this little break and get back to winning."
So, not just a break from playing but a break from practice and from each other with many of the squad going home to see family and friends over the festive period. Jukic gave his feelings on that break.
"Right now, it feels like it was a good thing. Everyone came back super-motivated and we've had two very good days of practice but obviously time will tell how we react to it. Some people might react badly but so far the feeling is pretty all right."
"No-one came back out of shape or anything and everyone's been practising and seems fine so, so far, it seems really positive around the camp."
After the Leicester game, Head Coach Fab Flournoy had a brief chance to let his players know where he felt they were at and to give them some time to think things over after those three consecutive losses. Time perhaps to reflect and contemplate for The Eagles forward.
"For sure, although I think you can't dwell on losses too much at the moment. Of course, it hurts and for the first couple of days you're down on yourself. But I think that the break has been long enough for everyone to get over it and we're ready to get back to winning."
The important thing for all basketball players whether it is a win or loss in your previous game is to get back on court as soon as possible to either continue your streak or banish the loss.
"You do get a bit anxious after a lot of days off and you sure are looking forward to playing again. This next one is on the road and we haven't done that well on the road recently, so we've got something to prove and you've just got to come out and do that."
Jukic is a positive person who believes in himself and his team-mates and he's more than ready to go to Sheffield looking for a win.
"It was nice to get the chance to go home for bit and see the family and stuff as you don't always get that chance mid-season so that was a great experience. But we're back now, I'm feeling good, no injuries or nothing and I'm just ready to play on Friday."