| Date | Time | League | Season |
| --- | --- | --- | --- |
| March 25, 2022 | 7:30 pm | Women's Regular Season | 2021-22 |
Jessica Eadsforth-Yates has revealed the WBBL's unrelenting rumour mill motivated her to make a much-needed comeback for Newcastle Eagles earlier this month.
And the all-action guard has vowed to play through the pain barrier after quashing talk of a premature end to her rookie season on Tyneside.
Eadsforth-Yates will start The Big One in front of a record WBBL crowd tonight despite fracturing her elbow in January.
But she admitted the shadow of a more serious injury hangs over her brave return to the Eagles fold.
"There was a lot of talk about me being out for the season and, to be honest, that really annoyed me," said Eadsforth-Yates.
"The WBBL rumour mill was in full swing and so I wanted to prove a few people wrong.
"I'm not going to lie — I could and possibly should have called it a day this season.
"I'm playing with a fractured elbow and one bad fall could make things much, much worse.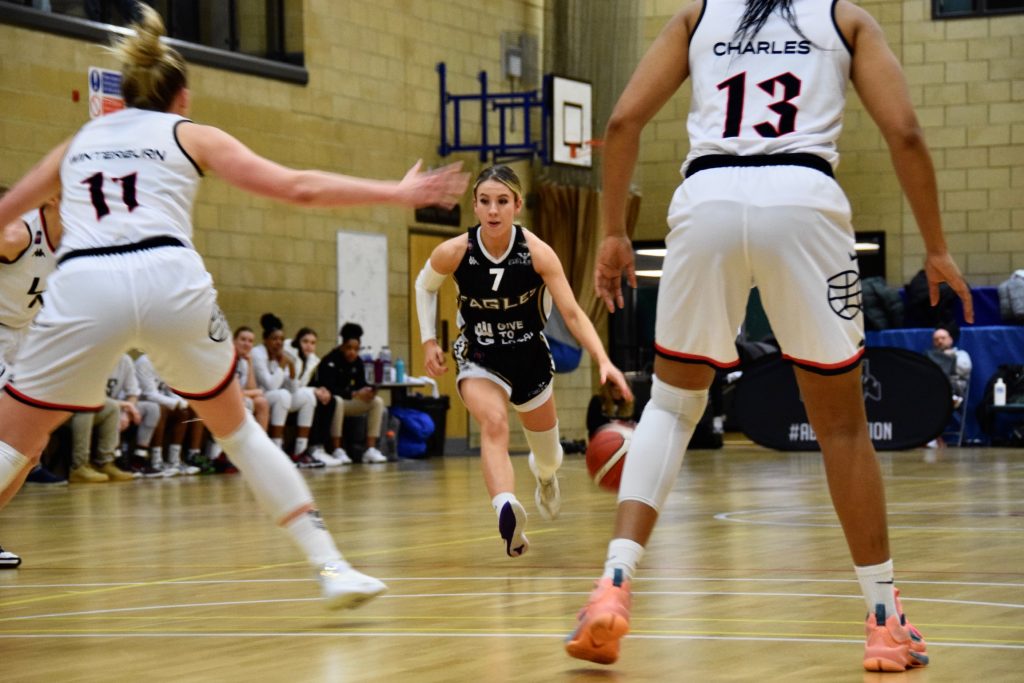 "But people were asking me if that was it for the season and I thought 'no, it's not'.
"I hated watching my short-handed team-mates from the sidelines and not being able to contribute and so I decided to play on.
"The injury's not going anywhere but neither am I. I'll play on for the rest of the season and assess the situation in the summer."
Eadsforth-Yates has become a cult favourite with the partisan Newcastle crowd on the back of a series of stirring displays for the women in black.
And the gutsy point guard has become pivotal to head coach Noelia Cacheiro's plans for a concerted playoff push.
The Eagles' Spanish playcaller thrust Eadsforth-Yates back into action against Gloucester a fortnight ago despite her playmaker's lack of match practice.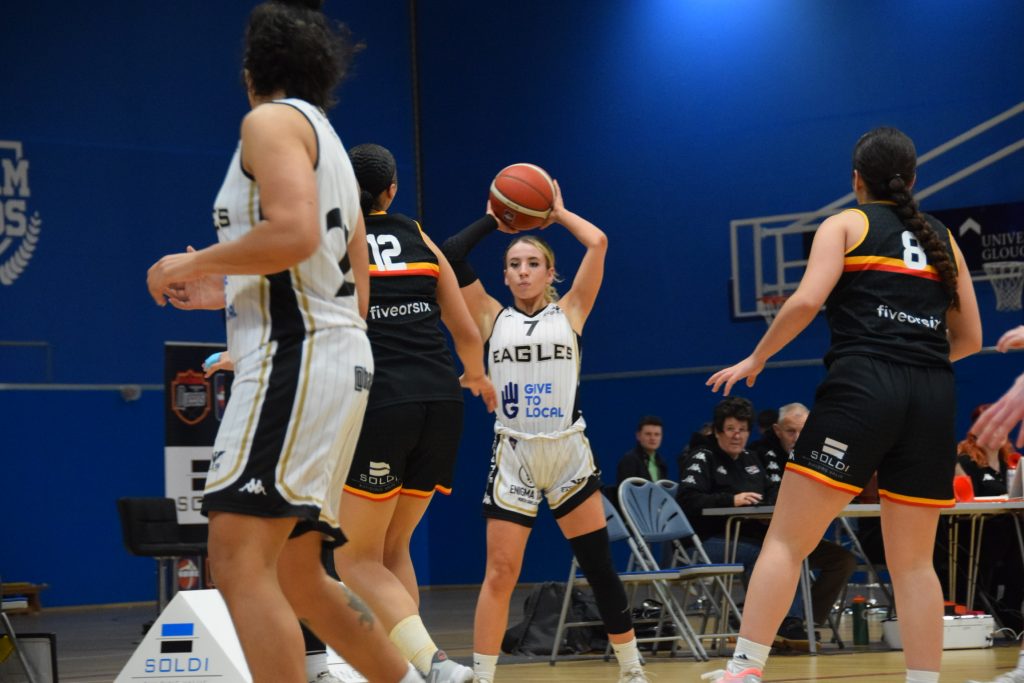 But the energetic returnee followed up a 35-minute shift against the Queens with another 26 minutes against London just 16 hours later.
"Noelia had told me she'd limit my minutes but I felt fine and we just went with it," added Eadsforth-Yates.
"On the Monday morning my elbow was the least of my worries. Everywhere else ached and I could hardly walk!
"I went into the weekend playing a bit scared but it was a chance to try and get back into some shape.
"Everyone is going to need to play a significant amount of minutes every game between now and the end of the season and I'm no different.
"I don't think any of us imagined we'd be in this position at the start of the season. When you consider the team that we did have, making the playoffs should never have been a concern.
"But in sport you're dealt the hand that you get and that's where we're at.
"The five or six senior players that are still here deserve to be in the playoffs and we'll fight to get there."
The Big One sees Newcastle entertain mid-table rivals Caledonia Pride in what's set to be a thrilling cross-border clash in front of a record league crowd.
Eagles bosses are still confident as many as 1,500 fans will pack the Vertu Motors Arena tonight with midweek ticket sales topping the 1,000 mark.
And Eadsforth-Yates added: "It's been the talk of practice this week. Every day we've heard the numbers going up and up and we want to reward our fans with a win.
"Of course I'm biased but our supporters and our organisation — and the way everything is set up on a match night — is the best in the country.
"I hate it when we run out in front of a big crowd and we don't come away with the win.
"We know we're going to break the attendance record and as a group of players we want to get the victory too."
Remaining tickets for The Big One with a 7:30pm tip-off are available from the box office and on the door.
Newcastle Eagles Women

51 - 65

Caledonia Gladiators Women

Vertu Motors Arena

Women's Regular Season