Newcastle Eagles go into The Big One tonight against a strong Leicester Riders on a three-match winning run.
The sold-out top-flight women's basketball tip-off is set to see the club break the league attendance record once again this evening after 1,122 turned out to the first Big One just under a year ago.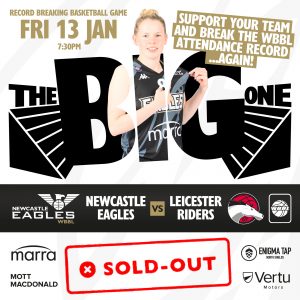 Our Eagles' look to continue their recent successes after the latest of their back-to-back wins was an impressive 90–82 WBBL Trophy win over Nottingham Wildcats last Sunday.
Tonight's opposition though are currently second in the league table with a 6 – 1 record.
Their only loss this season coming inevitably against London Lions. They also got through to the next round of the Trophy defeating Oakland Wolves.
Later this month Leicester are in the WBBL Cup Final against London so, it's fair to say that tonight's clash will be a tough one for Newcastle.
But buoyed by those three wins the Eagles will go into the game full of confidence that they can get a result. Part of that confidence comes from having a settled roster that has really gelled recently.
Newcastle's front court of Nette Lewis, Katie Nolan and Chloe Gaynor has rightly been getting rave reviews for their contributions but the backcourt pairing of Marina Fernande and Maggie Justinak is also really blossoming.
Indeed, Justinak over the course of those three wins has produced superb statistics. Averaging 20.7 points, 6.3 rebounds and 5.3 assists the talented guard from NCAA2 MSU Denver has certainly settled well as she previewed tonight's game.
"We had a good win on Sunday and it was a good game overall. We had a lot of work to do as it was first game for a while but overall it was a good game but we know we have to work on some things for tonight's Big One."
"We started slowly and it felt like we had heavy legs after the long lay-off but we picked it up after the first quarter. It was a close game that probably shouldn't have been a close game for us. We know what we have to work on for tonight's game and Sunday felt like a good starting point."
Justinak is really happy with the way she's now settled into basketball life on Tyneside and how she's contributing on a winning team.
"I'm really pleased with the way I've been performing. I think the biggest thing that I'm concentrating on right now is on my defensive work just to be there for my teammates. It's something I really think I can pick up on."
"Just getting on board with both my offence and defence and bring them together will help the team especially in tough games like tonight's. I think to get on the same page with everyone and using our defence to help our offence is kind of where we need to be."
"Our inside-outside game is really great. We know each other well now. Believing in each other going inside and out is important. If our inside game is not there we know we can rely on our outside game. It's kind of a back-and-forth thing we've got going on right now."
"We know we have really big players down there that can get us going and Marina and I just feed off that and if we're both on that's great. If we have the inside and the outside games going on working hand in hand that's where our momentum has been going.
Justinak can hardly wait for tonight's "Big One." Playing on a full court in front of a huge Eagles following is something she's looking to savour.
"I'm extremely excited for that. I have never played in front of the amount of people coming in ever. It's going to be a fun one. Just being out there with my teammates and putting on a show for everyone."
"I feel like it's a stepping stone for our team and the club in progressing. I get nervous before every game but once the ball is tipped they fade away. Overall, it'll be a really good match up for us. Both teams go at it really hard at both ends."
"I think both teams have great players all across the board and it's going to be a great game."
The action gets underway at the Vertu Motors Arena with a 7:30pm for The Big One with very limited tickets still available.