| Date | Time | League | Season |
| --- | --- | --- | --- |
| March 17, 2023 | 7:30 pm | Men's Championship | 2022-23 |
It seems as if every week for Newcastle Eagles brings another must-win game and a chance to try and ignite a run to make the playoffs. Tonight is no exception despite it being the multi-talented London Lions that are in town.
Last weekend was another one typical of what this BBL season seems to have served up for the Eagles franchise. A superb win last Friday coming from 17-points down to defeat Leicester at home. Then less than 48 hours later in Leicester losing to the same opposition by ten points.
Head Coach Marc Steutel reflected on that before turning his attention to tonight's opposition.
"Playing the same team twice in two days has a range of challenges. I think Leicester on their own court after Friday's game were a different team and credit to them. I was exceptionally frustrated and disappointed that we lost David Cohn out of the game."
"He was playing in rhythm and playing in form pushing the tempo for us. I was absolutely perplexed at an officiating decision that had such a significant impact on our team at such a crucial point in the game."
Steutel was referring to his point guard and on-court general being ejected from the game with his side only five points down and Cohn on 23 personal points.
"I'm not putting the sole factor on that but do we have a better chance to win with David Cohn on the floor? Yes, we do. There were some elements of our play that were positive but we're going through a run of games where we've just seen Leicester twice."
"Then we see London twice in out next three games starting with tonight and we have to make sure we're the best version of ourselves. When you're playing a team like London to give yourself any chance that's what you have to focus on."
"We're just trying to compete every day and trying to win basketball games. Everyone knows where we are and I carry that weight and responsibility. It's about trying to focus on the present and the game in front of us."
That game tonight at the Vertu Motors Arena brings in the league-leading and Champions elect London Lions. A tough, tough assignment for Newcastle as Lions are currently on a 17-game winning streak in The BBL and still in Europe as well.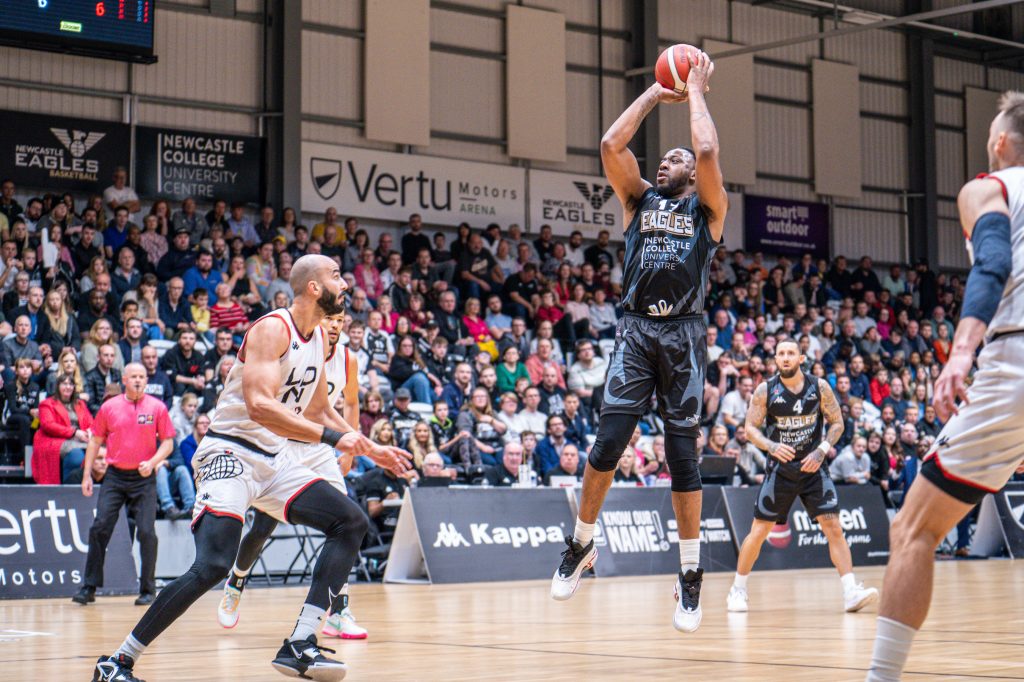 "We saw London earlier in the season and they still have some of the same players as well as a few roster changes. I've seen these guys a lot, especially in the Europa Cu where they're doing a great job in representing British basketball."
"They're an exceptionally talented team possibly the most talented The BBL has ever seen. They are really well organised and exceptionally deep. The last three games they've played 11 players and all have contributed."
"We have to defend by committee and make sure that we don't allow certain guys to get into a rhythm. We have to be diligent on defending all five players consistently making the game as scrappy and disruptive as we can. We have to makes sure we go from the defensive metrics we want to achieve."
"The responsibility of the Club being where we are in the table is on me. That's something I accept and own. The BBL is an exceptionally tough league. It's tough to win on the road and not easy to win at home. it's competitive and everyone fights hard."
"There is really good talent in this league lead by London and really good coaches in this league which is good for the growth of British basketball."
"We just have to make sure we're one of the teams that's at the other end of the table moving forward. That's what this Club wants to do and that's what we need to do and that's a responsibility that we accept."
Tip-off for tonight's game is at the usual time of 7:30pm, with the last remaining tickets available via the box office.