Esh Group Eagles Newcastle return to Northumbria University Sport Central tonight for a BBL Championship clash against fellow Esh Group sponsored nearest neighbours Leeds Force, writes Jeff King.
Leeds have only won one game all season and whilst they have used no fewer than 23 players to turn their season around nothing has changed and it would be a major shock if they recorded a second win tonight.
For Newcastle nothing but a win will suffice. They come in to the game on the back of three successive home defeats and whilst they have a couple of away wins sandwiched in between there's no doubting a fourth successive home defeat would be unthinkable.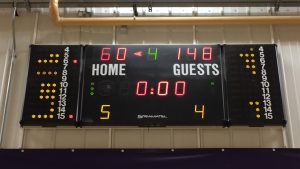 Add in the fact that when these two teams last met on the opening night of the season, The Eagles were victorious by 148 – 60 surely this time Fab Flournoy's side can start turning that poor home form around.
Jaysean Paige announced himself to the league in that opening night win with 30 points and is currently averaging 24 points per game to lead both his side and The BBL in scoring and after the two-week break he knows how important it is for his side to get a much-needed win.
"We're ready for the game and we need this win. We've got to get back out their and get this thing back on the right path. We owe the fans one for sure. We've got to more than just win we've got to get going again and tonight's the start."
Paige was a little reluctant to be drawn on the reasons for the Eagles poor recent home form and in particular the last time out when they were soundly beaten by Cheshire Phoenix but that's because he prefers to look forward and not back.
"A loss is a loss and no loss is good but it's behind us now. We've got to fix our mistakes and keep building as a team and that's what we're focused on. We're not going to take them lightly. That first game against them was just that, the first game."
"We've got another one on our hands and as such it's another important one, so we've got to come out and bring it and make sure we get the win."
Leading all scorers in a team Paige is obviously a player the opposition focuses on but as far as he's concerned it's not about the numbers or him as an individual.
"It's all about the team. My job is my job and part of my job is to make sure I help the team to win and that's what we need, whatever it takes to get the win that's what we've got to do as we need to start racking the wins up."
"It's not about my numbers or anyone else's, it's about getting everybody on the same page and making that push towards the end of the season. It's all about everyone communicating and working together."
With Terry Martin now confirmed as being out for the season with injury, Newcastle look as if they will also be without Dane, Zarko Juke who is on international duty and played last night for The Danes in a winning effort against Worcester's Elvisi Dusha and Albania.
Paige eluded to that as he finalised the preview for tonight's game.
"If everyone steps up and plays like we did at the beginning of the season when we just played and not worried about anything else we'll be fine. We definitely ready and looking forward to getting back out in front of our fans."
Tickets are still available by calling 0191 245 3880 or clicking on the 'Buy Tickets' button above.
Sign-up to our newsletter now for an instant discount in your inbox: