The Seriös Group Newcastle Eagles got their Women's British Basketball League campaign off to a perfect start in Manchester last weekend winning in the end comfortably 77 – 65 against The Giants.
But tonight's opening home game in the League against Caledonia Gladiators may well present a tougher challenge for Noelia Cacheiro's roster with their opponents having a stacked roster this season.
The Gladiators got their League campaign underway with an impressive 99 – 44 victory over Durham Palatinates. A game where all 12 of their roster saw meaningful minutes. That win was the filing in the sandwich which saw them win two games in Europe either side.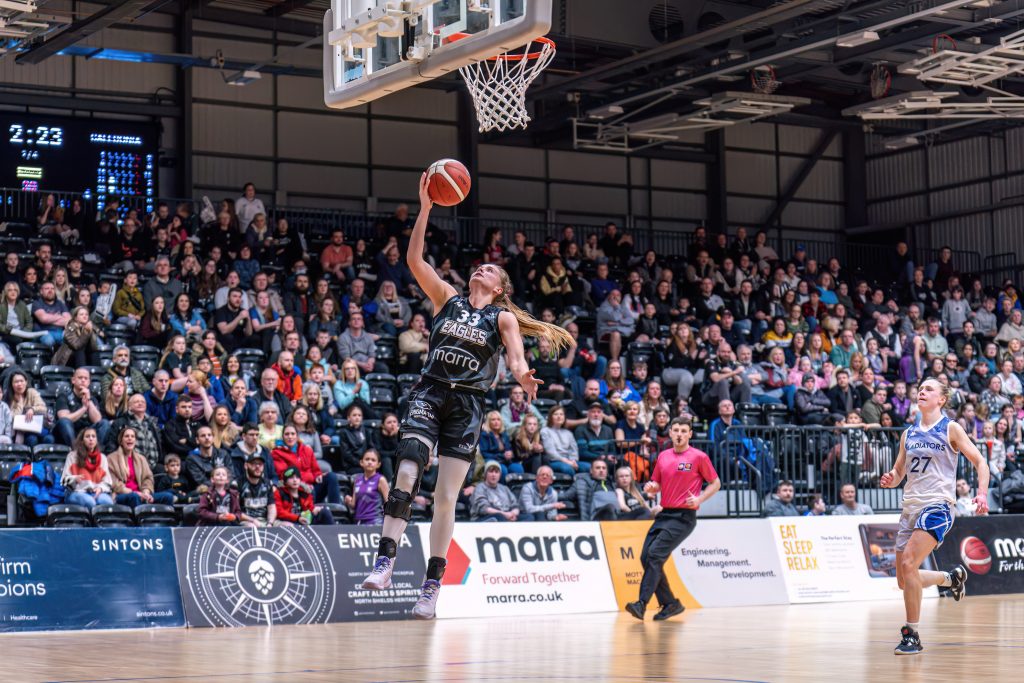 Caledonia have made the bold venture to go into the FIBA Eurocup this season and already it appears to be paying dividends.
They have taken two home wins in their Group so far defeating SL Benfica of Portugal 73 – 52 and Namur Capitale of Belgium 49 – 42. Impressive efforts both and marking out this Caledonia outfit as one to watch in the League this season..
Eagles forward Chloe Gaynor is in no doubt her side face a tough task tonight but started her preview by looking back at last weekend's win against The Giants.
"I thought it was a good start for us with the core coming together from last year. It proved we have a solid foundation that know each other's game and after a slow start we came together well."
The Eagles went into the game minus USA Centre Celena Tayborn who has already left the Club and then lost point guard Cherita Daugherty just after the midway point of the first quarter. Gaynor felt the side reacted well to that adversity.
"It's hard when anyone goes down injured but when it's your point guard it definitely has that power to flip a game. I thought everyone showed a lot of maturity to handle that well and to not let that affect us much on the court."
"The togetherness of the team really showed through that and although we were worried about Cherita and what was going on with her I think having the same core of players with the same common goal to get the win was important."
Turning her thoughts to the Caledonia game Gaynor made no bones about how tough a task the Eagles face in their first home League game.
"They were a good team last year and they've made a lot of improvements over the summer. It's clear that they are a team to watch and they've had an unbeaten start with two great wins in the Eurocup already."
"They have depth on their roster and cover across all positions which is something we have to bear in mind. We have to be together again and continue that understanding that we're all in pursuit of a common goal."
"It think it's about us locking in defensively. I think we're a defensively minded team in the fact that our defence powers our offence. If things aren't going well on offence we can help that by ensuring that we play to our defensive strengths."
"I think mainly though it's just the mindset of going into the game to be competitive for forty minutes and being ready for what is in front of us."
The game tips off at The Vertu Motors Arena at 07:30pm and The Eagles are looking for a good crowd to help them face up to and deal with a tough challenge against a quality side.
Tickets can be purchased via the box office.