Another tough weekend lies ahead for Esh Group Eagles Newcastle in their push for a play-off place. Tonight, at home in The Eagles Community Arena they face Bristol Flyers before heading down to Ellesmere Port on Sunday to take on the Cheshire Phoenix.
Head Coach Fab Flournoy is very much aware of the task ahead for his players and himself as they look to bounce back from their last game when they lost down in Leicester against the Riders. Flournoy was philosophical about that one.
"Last Friday was a really tough game where I think we just ran out of gas in the final quarter and they made some really tough shots and we missed a few we'd normally get. I think they just got away from us in the fourth quarter after it had been pretty even."
"We were just unable to get it back. It was a game of momentums and they got their biggest run when it mattered most. There are things we'll take away from it and the biggest is that we need to take care of the ball more."
"We turned the ball over carelessly a few times and that was down to fatigue and they capitalised on that. We matched them pretty much on most categories but in the end, they shot the three much better than us and that made the difference."
So, the Eagles will be looking to get back to winning ways against a Bristol side that gave them a good run for their money the last time they visited The ECA a mere three weeks ago before Flournoy's men squeezed out a 95 – 89 win.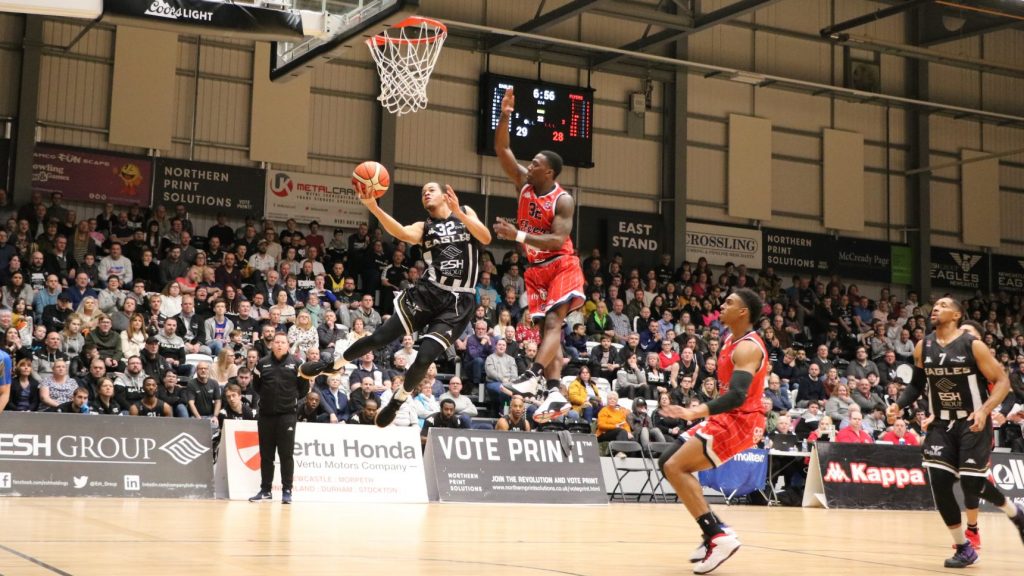 "It's going to be another tough game. In many ways the last time we played them was like last week's game at Leicester only that one went in our favour unlike Leicester. We just got the better of them at the right time and they couldn't come back at us."
"I'm expecting it to be close again. They're a pretty tough team especially as they're searching for a play-off spot in the top eight and we're trying to solidify our spot in the top four. Every game going down towards the end of the season for everyone means something."
"You can't afford at this stage of the season to have any mental mistakes. I mean people will make plays and miss plays but the overall mental approach to the game has to be there. The mental preparation and dexterity of doing the things you need to do as a time and who is mentally ready to implement their game plan is what it comes down too."
There's little time to come down from tonight's game before Newcastle have to head off for Cheshire but Flournoy is a realist and realises that at this stage of the season it's all about being ready.
"We just cross each bridge as we come to it. Our week was a recap of the Leicester game then we spend the week concentrating on us and about the things we need to be doing. I still feel that we're a team that is still learning and still growing."
"Then as the games approach, we concentrated on Bristol last night and tuned in to what we need to do to put ourselves in a place to win the game tonight. Then when the dust settles then we'll concentrate on Cheshire and what's ahead of us."
"We know it's a double-header and the only thing as a coach I have to be mindful of is rotations and that you don't burn guys too much whilst still needing to do what you need to do to get the win. Hopefully you stay away from injuries as well but you have to deal with it one step at a time and that's what we'll do."
Tip-off as usual for tonight's encounter is at 7:30pm when a bumper home crowd will hope Flournoy and his players are in the right mood, shape and mind to get a win to set them up for a successful weekend.
Tickets are still available to buy online: