Newcastle Eagles go back to the future tonight in a bid to finally reignite the club's playoff push.
The first of this season's Retro Series games sees the men in black revisit the 2004/05 double-winning campaign as they host a throwback fixture against Cheshire.
Newcastle will wear a unique kit styled to evoke memories of the year that announced the club as major players on the hoops scene.
And 19 years after he made his Eagles debut it's that man Darius Defoe who still remains pivotal to a franchise desperately chasing former glories.
"Darius continues to play at a really high level like he has done all season," said Newcastle head coach Marc Steutel.
"I've been really proud of him and pleased with his output. He's just a warrior. Darius epitomises the traits in basketball that I believe are important for winning.
"His sustained success is a testament to what he puts into this game and what he puts into this team and what he puts into this club.
"I'm pleased with the level he's playing at and we need him to maintain that level during the last eight basketball games of the regular season.
"That will help ensure we're a playoff team come the end of the season."
Defoe burst onto the BBL scene in 2004 after the Hackney-raised teenager signed for former Newcastle play-caller Fabulous Flournoy.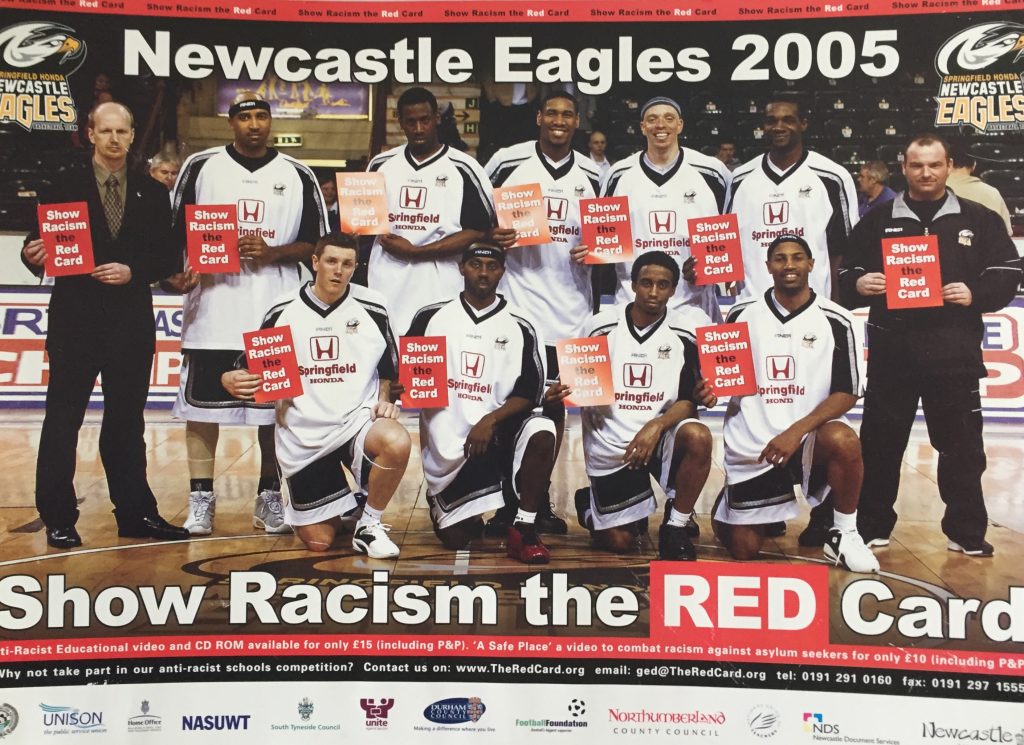 The raw forward made his debut against Scottish Rocks on October 1 and went on to feature in 40 games — picking up the first of his 27 titles in a BBL Trophy win against Nick Nurse's Brighton Bears.
A few weeks later Defoe hung another medal around his neck after Newcastle pipped the then Chester Jets in a thrilling Playoff final to claim a historic double.
Twelve months later the club celebrated the first of its clean sweeps and was firmly established as the rising force of British basketball.
Only Defoe and Newcastle owner Paul Blake remain from that memorable era but tonight is as much about consolidating the future as it is celebrating the past.
One of the few positives to come out of last week's sobering loss at London was the introduction of Sam Mamuini and Josh Moore off the Eagles bench.
And as Steutel grapples with a slew of late-season injuries, the former GB Under 20 coach is delighted with the contribution of his rising stars.
"It was good to get them both on the floor and, in particular, against the top team in the BBL but also a team that's playing in the EuroCup," added the Eagles play-caller.
"It's important for those guys to experience the level that they're aspiring to get to.
"Josh and Sam both work exceptionally hard every day and they're two players who are really committed to and focused on their development.
"That's what it's about for them. They're both on individual development plans in terms of where they're playing within our pathway so it was good for them to get some meaningful time on the court.
"That's something I encourage them to earn every day in practice. Now that they've had a taste of playing against a team like London I'd like to think that gives them a platform to build on and we'll see where they can get to moving forward."
Both Mamuini and Moore could be asked to play key minutes against the retro-fuelled Phoenix/Jets tonight with talisman Javion Hamlet, GB guard Ben Mockford and big man Hasahn French all facing late fitness tests.
But on the night when Newcastle throw it back to 2005 don't bet against 38-year-old Defoe turning back the clock to a time when the Eagles were only just starting to cement their storied legacy.