The Esh Group Eagles Newcastle are on the road again tonight for a tough match-up against Worcester Wolves, writes Jeff King. It's just over a week ago that the Eagles bounced back to winning ways with a thrilling 86 – 83 home win against tonight's opponents.
That win was needed after three double-digit losses away from home in less than a week. It was a win that certainly galvanised Newcastle as they followed it up with a second home win within the week with a crushing win over Sheffield Sharks.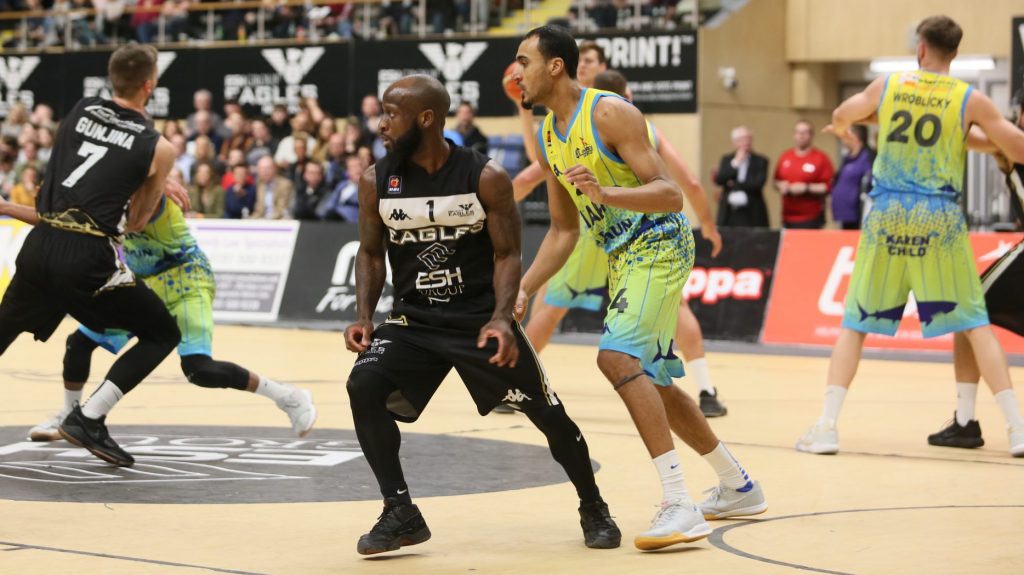 However, point guard and court leader Saah Nimley knows that his side is in for a battle against a Worcester side looking for revenge as they search to confirm their play-off place. The Eagles, courtesy of those two wins are already in the play-offs and are looking to consolidate second place.
"It's always good to get a win especially after the tough losses we had on the road. So, it was good to re-group back at home. I think we were desperate, we needed a win and we knew what we had to do to get a win and I think we're becoming more accustomed to playing with the roster we have right now."
Nimley was in fine form in both of those wins and in truth in the three road games he was also one of the Eagles leading lights in what is a shorth-handed roster. He's certainly showing his leadership qualities as Newcastle prepare for the end of season.
"I feel like I'm playing well right now and have good form but more importantly for me it's about the team's form. We're just trying to come together at the right time to be playing well and the right way going in to the play-offs."
Looking forward to tonight's game, the explosive guard understands he and his team-mates have a big task ahead.
"Every road trip is tough. We must go in to tonight's game like we go in to every other game and try and steal one on the road. We haven't been able to do that lately but we're looking to keep going in the right direction right now and try our best to win tonight."
"I think we need to contain their guards, contain their big men, attack them early and try and get some of their guys in foul trouble. We have to be aggressive but also play smart especially being short-handed and having the number of guys we have available."
The Eagles are unsure of their line-up tonight with Jaysean Paige nursing a sore ankle and a doubt alongside Darius Defoe who is back in training but probably not quite ready to step in to the fray as early as tonight.
With Leicester confirmed as BBL Champions for a third consecutive season it's now all about that race for the runners-up spot and a win tonight for Newcastle would go a long way to them achieving that spot and giving them a favourable position for the forthcoming play-offs.