Esh Group Eagles Newcastle go in to tonight's crucial BBL Championship clash at Sheffield against The Sharks on the back of three straight losses, writes Jeff King. Experienced forward Kai Williams knows how tough Sheffield can be in their own back yard.
"Tonight's game is going to be tough with it being the first game back after a break and taking a few days off for some rest. Sheffield are a very good team this year and a very tough team to play in Sheffield."
"It's going to be a difficult game but honestly we've had a good week of practice and I think the guys came back energised from their breaks and we're all definitely looking forward to the game."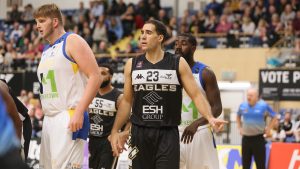 Williams reflected on the last game his side played, the tough two-point home loss to Leicester Riders before their break and how he felt that game went.
"A lot of credit to them, they played very, very well in that game whilst we only played well in spurts. We had a few lapses here and there and without them and a few plays changed that game comes out differently. There wasn't much between the sides."
"But I don't want to be a guy that takes a few moral victories from a loss. There are a few things we need to correct, and we've worked on those this week so definitely looking forward to a bounce back tonight and to correct our wrongs."
"It's difficult to say whether the break from playing, practising and each other is a good or bad thing. I guess you have to wait to see what the game brings. The guys are in good spirits even though we're coming off a tough loss."
"I think the fact that guys get a chance to see some family, get a break from basketball and get a little bit of a release is always good. But we're all looking forward to tonight's game and I don't think this time off is going to hurt us too bad."
The Eagles have already played and beaten Sheffield once this season back in November at Northumbria University Sport Central 100 – 93, a score-line that doesn't tell the whole story of a tense game.
Newcastle looked to be coasting to victory in that game as they led by as many as nineteen points before The Sharks mounted an amazing comeback that twice deep in to the final quarter saw them pull within a point before The Eagles closed the game out.
Williams knows that makes Sheffield an even tougher proposition but feels that knowledge they gained in that game plus knowing Sharks Coach Atiba Lyons tends to favour a certain style of play could work in their favour.
"It seems no matter who they end up bringing in they always end up playing tough defence and are tough at both ends of the court playing very much as a team and for each other. We're ready for that as they're not really a team that you don't know what you're going to get."
"They are always a very consistent team in this league. We're going to have to defend well and take the openings we get at the offensive end. It's going to be a tough game coming back but it's probably a good game for us coming back because we're going to have to be locked in from the start.
There's no doubting at all that Williams, his team-mates and the coaching staff are being questioned after those three consecutive losses and the best way to answer that would be with a huge road win at a real tough and close rival.