Ian MacLeod takes charge of his first Championship clash this weekend insisting there are no easy games in the BBL.
But the rookie playcaller believes the lessons learned from an often bruising BBL Cup campaign will stand his transitional roster in good stead.
And MacLeod is confident the Rodney Glasgow Jr saga will have a happy ending after the club finally made significant progress in securing his long-term availability.
"First off there are no easy games this year," said MacLeod ahead of today's traditionally testing trip to Plymouth Raiders.
"Easy is never a word we'd use at this club.
"It's a tough trip but this league is full of tough trips.
"There have been very few blowout games this season. That suggests the BBL will be a very competitive league.
"We know the Raiders' returning players well. We're very much aware of what Josh Wilcher and Rashad Hassan bring to the table.
"But Jackson Hyland is out and they've brought in a forward called Samuel Daniel.
"There's been a lot of chopping and changing in the BBL already this season but we do our homework on all of our rivals and we'll be ready for whoever steps on court for the Raiders."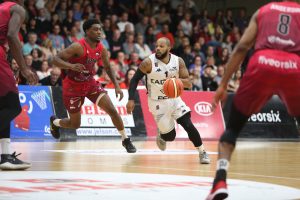 One player unlikely to step out on court for the Eagles at Plymouth is US star Glasgow Jr.
The talented guard has been waiting months to rubber-stamp his dual citizenship and MacLeod has grown increasingly frustrated with a delay in securing the relevant paperwork.
But Newcastle's interim head coach revealed: "As far as Rod is concerned we have made a significant step forward this week. It's progress and everyone is positive."
It is understood Glasgow Jr will kickstart his Eagles career before the end of the month.
But for now Newcastle will focus on further integrating new recruit CJ Gettys and building on Mike Morsell's 30-point haul at Worcester.
"We've looked back on our BBL Cup campaign and we've learnt some valuable lessons," added MacLeod.
"It's not something that we've put to the backs of our minds – far from it. It's important that we remember what we did right and what we could have done better.
"Apart from the Sheffield game – where we just weren't at the races – we've competed well every night.
"We could have beaten Worcester and we had some good opportunities towards the end of the game. But it just didn't happen.
"There were a few factors. CJ Gettys had only been with us for a couple of days and he will have a much greater impact moving forward.
"Mike Morsell could have been our matchwinner on another night.
"He's been brought here to score points and to be a one of the main guys on this roster.
"But he has to buy into the whole ethos – we want to be a team that's defensively strong and I need to work with Mike to make sure he improves every aspect if his game.
"I love what he brings to the team in terms of his youthful exuberance and enthusiasm. That's what makes him the player he is."
Gettys has proved an instant hit with team-mates and fans alike and MacLeod is predicting big things from the 7ft centre.
"CJ is a great guy," added Fabulous Flournoy's successor. "He's settled in very well. He's already well liked by the rest of the guys.
"CJ is experienced and smart and he's picked things up very quickly.
"I'm expecting big things from him.
"He's very disciplined in his approach and he's in the gym every morning."
Today's BBL Championship fixture tips off at 3pm and will be streamed live via the BBL's YouTube channel.