| Date | Time | League | Season |
| --- | --- | --- | --- |
| November 7, 2021 | 3:00 pm | Men's Championship | 2021-22 |
The Newcastle Eagles make their longest road trip of the season today as they travel to Plymouth to take on the City Patriots in a BBL Championship clash this afternoon.
Head Coach Ian MacLeod and his men will travel in good heart and confident mood after their fine 90 – 81 win on Friday night over Surrey Scorchers at the Vertu Motors Arena. It was only Newcastle's second win of the season and their first in the Championship.
It was a game that they led all the way after a tight first quarter. That period had swayed one way and then the other but Eagles came out on top 23 – 20 and then built from there. Twice they went up by sixteen points and although Surrey did cut the gap they never got closer than five points behind.
Several key performances from the Eagles roster came from Wes Person Jr, Duke Shelton, Darius Defoe and new signing Brandon Peel who all netted double figures. Newcastle were led though by Rahmon Fletcher with 19 points, 7 rebounds and 11 assists and Corey Johnson who was MVP on the night with 27 points, 5 rebounds and 4 assists.
Johnson gave his thoughts about the victory and the trip to Plymouth after the game.
"We talked about this game being important and trying to get the monkey off our back and getting that first league win. It was a nice way to go into this weekend as we've got business to take care of at Plymouth as well."
"We'll take a little time to reflect and enjoy the win but we have to refocus quickly travel to Plymouth and get another one."
"I think the key to our win was our defence for once. Going into the game we didn't want to overhelp. We wanted to trust our 1-on-1 matchups and be in the right position early on and not have to recover and I think we did a good job of that."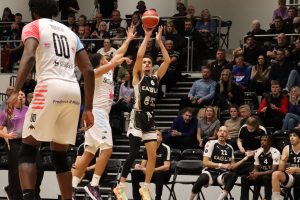 "In the first half Surrey hurt us on the offensive rebounds but we picked that up in the second half and I think that was the difference."
Whilst the Eagles have been short-handed in the previous weeks and games Johnson himself has been in great form carrying the fight and also captaining the side on occasion. He continued that great form on Friday night.
"I was just doing my part that I had to do to help my team win and it was a good day for me. I loved the support we got from the fans as well. It's great to have them back and I love playing in this arena."
Johnson paid tribute to his captain Fletcher who supplied some of the assists for Johnson's scores and also described what Peel will bring to the roster.
"Fletch is going to do his thing regardless of whether the shots fall or not. We're always going to trust him to do what he's going to do and tonight showed that he's obviously still one of the best in the league."
"Brandon is a great addition for us and he stepped up tonight for sure too. We had a lot of confidence in him working with and watching him in practice this week to play his game and that's exactly what he did."
Going into this afternoon's game it looks like an Eagles win on paper. The newly formed Plymouth City Patriots have no import players and have lost every game they have played so far. They have however made two new signings including Kofi Josephs to bolster their ranks.
Johnson knows that they cannot be taken lightly.
"It won't be easy. It never is on the road and this is a long drive for us. But we can't make any excuses. We've got to go there and take care of business and I think we can do that on Sunday."