| Date | Time | League | Season |
| --- | --- | --- | --- |
| February 19, 2023 | 3:00 pm | Men's Championship | 2022-23 |
Marc Steutel will accept nothing less than a Newcastle win in this afternoon's BBL clash at Plymouth after the Eagles let slip more precious points on the road.
The men in black led by as many as 14 at Bristol Flyers on Friday only to finish the night on the wrong end of an 81-75 scoreline.
And Steutel is demanding a bounce-back victory against the Patriots with Newcastle's playoff hopes hanging by a thread.
"We have to go to Plymouth and win," said the Eagles' play-caller. "It's as simple as that.
"We understand the significance of the fixture and we know we have to go there and win a game of basketball. 
"If the best Newcastle team shows up — where we're defending the right way, taking care of the ball the right way and playing at our own tempo — then we're a tough basketball team to beat."
After a series of false dawns throughout a frustrating campaign, Steutel knows that the 'best Newcastle team' showing up is a big 'if'.
The Eagles finally boast a settled roster following an unprecedented flurry of mid-season moves and at their best against Bristol the visitors were unstoppable.
But consistency across all four quarters is still key for a team frequently failing to reach its true potential.
"I think we have to want to do it in terms of transforming our collective talent into wins," added Steutel. 
"I don't believe we have anyone in our group who doesn't want to do that — I just think there needs to be an intent and a discipline behind doing what's needed when things aren't going our way. 
"Basketball is an imperfect game. Things can go from feeling pretty positive to, within a few possessions, that feeling being flipped around.
"We have to be able to manage those situations and we have to want to do it. 
"When we're playing well and playing the right way we have to continue to do that and stay true to ourselves. But we have to do it now — quick, fast, in a hurry."
Steutel is well aware that time is running out for Newcastle in their bid to reel in those clubs above them scrapping for a top-eight finish.
But Plymouth represents a realistic target as Paul James' side aims to overcome its own run of rocky form.
The Patriots' overtime win against basement club Surrey Scorchers on Friday was hardly convincing and Steutel senses an opportunity to finish the weekend on a high.
"At this stage of the season both teams know each other well," he added.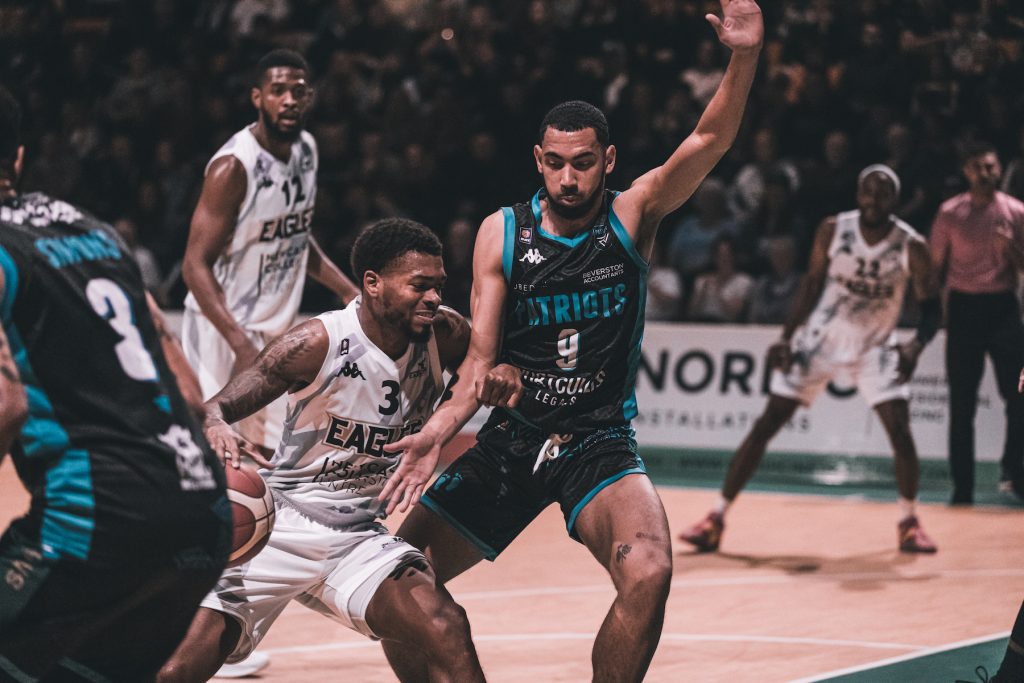 "We've not come up against Ty Gadsen but we've done our homework on him. 
"This is two sets of players who know each other very well so it's about who's going to execute on the day, who can make more shots and who can make more stops at key times.
"We feel that team can be us if we play our way.
"PJ is an excellent coach in this league and knows what it takes to win. 
"He's had a few challenges to negotiate this year in terms of their roster but it looks like Gadsen is fully integrated now. 
"He's the one on the scouting report that we need to ensure doesn't get into a rhythm but otherwise we know what to expect."
Steutel would love to see his side replicate Friday night's lightning start against the Flyers after witnessing Newcastle's most complete quarter of the season.
And the Eagles play-caller won't step away from the fast-breaking, high-pressing style of transitional hoops that has become the hallmark of his evolving side.
"The narrow loss at Bristol was a bitter pill to swallow," he added. "But I was really pleased with how we came out at the start.
"How we executed our transition throughout the game was a source of huge frustration.
"When we did get stops and we did keep Bristol off the second chance opportunities we just weren't as effective as we have been in transition. 
"To finish with 19 assists and 20 turnovers just isn't the team that we've been. We've been a team that's wanted to share the ball and wanted to take care of the ball. 
"It's a focus and a concentration thing and it's about not compounding one error by doing the same thing again. 
"We don't want to change our style of play but execution within that style of play is the key area to focus on."
Newcastle face Plymouth from 3pm with all of the action live on the BBL's YouTube channel.