After the surprise loss to Cheshire Phoenix in The BBL Cup last weekend, Esh Group Eagles Newcastle bounced back to winning ways on Friday night with a 103 – 80 defeat of Surrey Scorchers in a BBL Championship clash, writes Jeff King.
The win maintained The Eagles' 100% record in league play and as veteran guard Drew Lasker commented afterwards, it was an important to get back his side back on track after suffering that shock defeat.
"It was a great win. It wasn't pretty at times, but I felt like it was a great team effort. One thing I felt like throughout the game was we played with energy and we played hard. Sometimes it didn't look the prettiest but at the end of the day, that's what we want."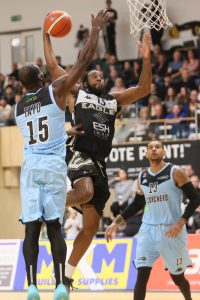 "We've got ten guys that are capable of playing so there's no reason that someone should be holding back, and I felt that throughout the whole game we played hard."
Whilst it is true that The Eagles run ten-deep this season they did only run an 8-man rotation on Friday with Head Coach Fab Flournoy choosing not to play himself and Lasker himself not playing as a precaution following some medical work this week on a leg issue.
But despite only playing eight players, no-one played thirty minutes or more and five players hit double figure scores as Flournoy shared out the minutes and his players shared out the scoring duties to take a valuable win.
"With this team all-year there's going to be competition for minutes as realistically with ten guys not everyone is going to be totally satisfied from game to game. I mentioned that to the team and said that it's going to be different every night and whenever you get an opportunity you've just got to make the most of it."
Lasker, who along with team-mates Kai Williams and Darius Defoe, has just been called up to the preliminary 24-man England squad for The Commonwealth Games in April next year, is a real veteran of The BBL and has a great understanding of The Eagles' philosophies and principles which makes him a leader within the team.
"I try not to be overbearing, I just speak when I feel it is needed and for the most part just let the guys figure their way through. But when things need to be said then I'm going to step-up and say it whether it's good or bad. That's what my role is to plug-in game to game and week to week with whatever is needed."
"We certainly owe Cheshire one."
Certainly, that experience and input is invaluable to Flournoy and his coaching staff and whilst Lasker will again sit out today's Championship clash with Cheshire away from home, his is a voice and presence that can still have an impact from the bench for his team-mates.
"We certainly owe Cheshire one. Last time is no secret. We were extremely disappointed how that game finished with them on a 13 – 0 run. I felt we just let out foot off the gas and I felt out inexperience as a group showed through. We weren't poised down the stretch, we didn't slow things down and they came and hurt us."
"Hopefully we can look back in five months and say that was a big learning experience for this team but for now and Cheshire today, I don't think any of the guys need any motivation. We all know what it is, it's still fresh in our minds, and we don't need any big hurrah speeches for this game."