| | | | | | | |
| --- | --- | --- | --- | --- | --- | --- |
| Eagles | 21 | 14 | 13 | 8 | 56 | Loss |
| Sheffield Sharks | 19 | 28 | 14 | 19 | 80 | Win |
After an excellent win over Norrkoping Dolphins 24 hours previously, the Newcastle Eagles went head-to-head with more familiar opponents with Sheffield Sharks coming into Toon.
Watching from the Eagles bench was new signing point guard David Cohn who had arrived during the day but didn't suit up after a long journey from the United States. He may well have seen exactly why, despite a good start, Coach Marc Steutel has brought him to Newcastle.
The personnel may change but traditionally battles between these two Northern rivals are usually close and so it proved in a very even first quarter that saw The Eagles edge the period 21 – 19 aided by a first start from Jermel Kennedy and Duke Shelton.
Kennedy had seven points at the end of the first and Shelton six with Javion Hamlet really pulling the strings for the home side. However, Sheffield had some stars of their own led by the impressive point guard Sa'eed Nelson and the always dependable Jordan Ratinho.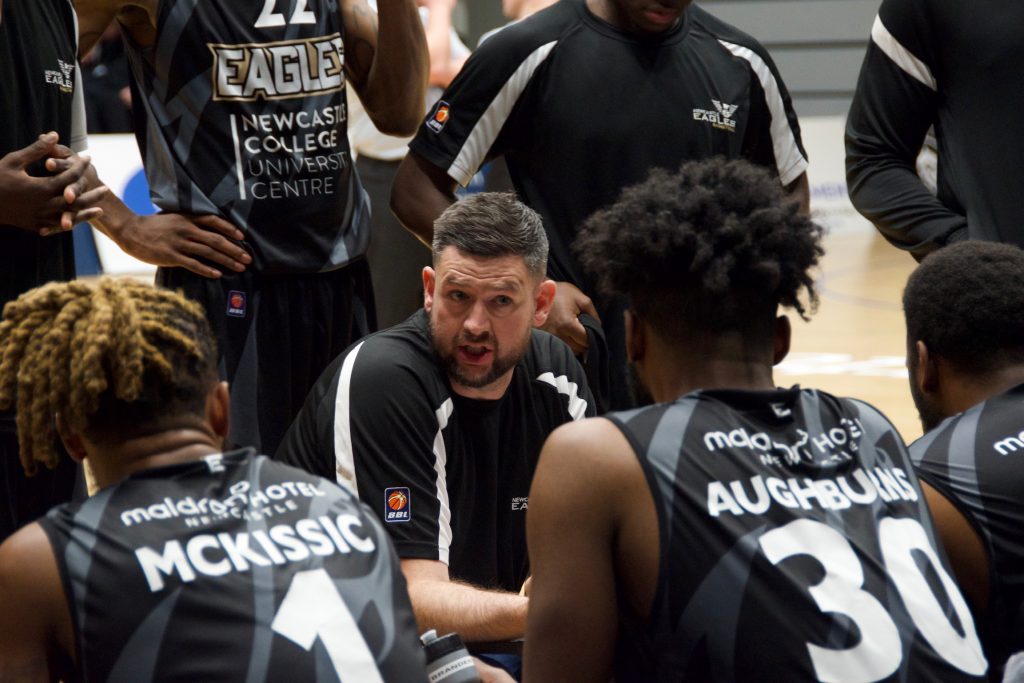 Any thoughts that winning didn't matter to either side were dispelled in a feisty second quarter that the Sharks used to their advantage, Early on Newcastle looked comfortable although an incident between the visitors' new recruit Channel Banks and Eagles veteran Darius Defoe set the tone for a fiery 10-minute period.
The Shark's Banks getting a sportsmanlike foul and Defoe a technical. As the dust began to settle the scoreboard showed Newcastle in front by 26 – 20. It was then that things turned against the Eagles who lost their shape, way, and discipline.
A technical foul on Coach Steutel and an unsportsmanlike on Hamlet gave Sheffield the moment they needed to kickstart a huge run that completely turned the game around. Nelson distributing superbly and Sharks scoring from everywhere.
That six-point Eagles lead suddenly became a 12-point deficit by the half time buzzer. Sheffield's biggest unanswered run being 13 points in that period as they went into the locker room 47 – 35 ahead.
Would the half-time break enable Steutel to turn his charges around was the question on everyone's lips. The answer for the third period was no. Kennedy did show up well for Newcastle but it was ex-Eagle Rodney Glasgow, the new Sharks captain, who fired home a couple of bullets to keep his side well in command.
Sheffield's defence was particularly dominant forcing the home side to go deep into the shot clock on several occasions. Add in Hamlet and Branden Aughburns getting into foul trouble and Sheffield's ascendency saw them lead 61 – 48 going into the final period.
That final period simply saw Sharks continually thwarted Eagles every effort to break through and they simply stifled any hopes the home side had of coming back actually restricting their hosts to a miserly eight points in the final ten minutes.
It meant they were easily able to coast to a highly impressive and comprehensive victory by the final buzzer as for the second weekend in a row Newcastle showed a Jekyll and Hyde personality.
A good win on the Friday against quality European opposition followed by a worrying second effort against an extremely solid BBL outfit that looked ready to open their campaign next weekend.
For Steutel and Assistant Coach Gary Stronach if they felt they may have had some answers after Friday's win they now may well feel that they have more questions to ask as they search for the right formula to take into the BBL season.
A season that starts in two week's time with the visit to the Vertu Motors Arena of Manchester Giants led by a certain court general by the mane of Rahmon Fletcher. It will be interesting to see what the Eagles line-up will be for that game.
Tickets for the opening home game of the new season are on sale from the box office.