Esh Group Eagles Newcastle's stranglehold grip on The BBL Cup was dramatically ripped away from them on Friday night when Cheshire Phoenix staged a remarkable comeback to take the victory on the buzzer, writes Jeff King.
The Eagles having won The Cup for the last three seasons were a mere four seconds away from taking their place in this year's semi-finals holding the ball and a one-point lead when it all went wrong in stunning fashion.
Phoenix's Robert Sandoval stole the ball from Fab Flournoy's inbounds pass, intended for Kai Williams, fed ex-Eagle Orlan Jackman who was wide open, and his easy lay-up sparked wild scenes of celebration on the Cheshire bench as a shocked Sport Central crowd looked on in total silence.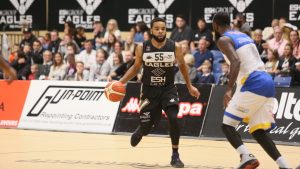 The Eagles had led by 12 points with only 2 minutes 39 seconds to play but the away side's incredible 13 – 0 run to finish the game ended The Eagles' hopes of a fourth successive successful BBL campaign.
A bewildered set of Eagles fans, officials and players struggled to comprehend what had just happened, but Williams stepped up to the plate to try and give a view of an almost unbelievable ending and result to the game.
"It's tough to lose the way we did but you know the game doesn't necessarily come down to one last play. There's a lot of things we could have done before that last possession which could have secured the win."
"It's disappointing and it's frustrating to lose a game of this magnitude but I honestly think that this will make us stronger as a team and we'll definitely bounce back from it in the right way."
Probably what was even more galling for Williams and his team-mates was the work they'd put in coming from nine down at half-time to lead by double-digits with so little time left on the clock.
"We weren't finishing some easy ones, we weren't coming up with some loose balls in the first half, but we stayed resilient and in the second half we got some stops and we were able to comeback and stretch out a lead we should have been able to hold."
"But unfortunately, we couldn't continue that, and you have to give them a lot of credit for closing the gap and taking the momentum in the crucial stretch. We weren't able to close it out and it came down to the very end and we lost out."
Eagle's crucially were without their on-court general, point guard Saah Nimley through injury and that certainly contributed to the final analysis.
"We need to be at full strength because everyone contributes to the team in their own way. It is very important for us to realise that not one person will ever cause us to lose a game but there's always a bunch of people that will cause us to win a game."
"This game, this loss it's not on any one person's shoulders. As a team, as The Eagles we lost as team today. We definitely need to bounce back in the right way and I think that having something like this happen to us early in the year will definitely makes us stronger during the year."
"It was unfortunate that it happened in a Cup game rather than a league game for sure. But for our team we'd like to achieve certain things, so we'd never want this to happen in any game as we want to win every game we're a part of."
"Unfortunately, we can't go forward and defend the title in The Cup, but we have to re-group, we have to watch some film, we've got to figure out some things in practice we can work on. I know our coaching staff will have us ready to go and then all the guys will be ready to go this upcoming week."
That next game is Friday 10th November at Northumbria University Sport Central when the Surrey Scorchers come to Newcastle for a BBL Championship clash.