It was billed as a game that Esh Group Eagles Newcastle could not afford to lose, a must-win game and a possible BBL Championship decider even with over three months of the season to go, lots of questions to be answered writes Jeff King.
On Friday night, we got the answer. A superb 89 – 85-win handed Leicester only their second league loss of the season, squared the series between the sides at 1 – 1 and opened up the Championship race and showed the potential of a talented Newcastle side.
Whee were the Eagles heroes? Terry Martin, Saah Nimley and Kai Williams played strong supporting roles. Captain Darius Defoe had a hugely important and crucial effort of 21 points and 9 rebounds but the name on everyone's lips at the end of 40 pulsating minutes was Jaysean Page.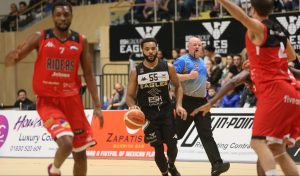 The Eagles mercurial shooting guard became the first BBL player to score 40 points in a game this season, shooting at over 50% and throwing in 9 assists and 5 rebounds for good measure to lead the team to what could prove to be a crucial win.
"I think every game is a must-win game. We came up short last time against Leicester. We made a few mistakes defensively and didn't finish off some plays offensively, so we needed to put that right and come back to get that win."
"We tried to limit our turn overs and just execute on offense. We still made a few mistakes at the end but we're starting to limit them more and we're getting better, step-by-step and more composed down the stretch when it matters."
Down by five points at the half, Newcastle turned that around superbly in the second half to take a four-point win and one of the biggest factors was the emphasis on defence and winning the rebound battle by a huge 30 – 19 margin in the final twenty minutes.
"We've been harping on at the big guys to just rebound the ball and just do what they need to do, and they did a good job of that tonight as well as finishing well around the basket. So, they rebounded finished well and it all helped it to pay off."
As for Paige himself, 40 points against the toughest defence in The BBL was really quite some achievement by a player that leads The BBL in scoring.
"I work on my game every day and try to get better and today was another good game for me. I need to keep that going and pick it up again next week and be consistent in what I do. I've scored 40 points before but it's irrelevant."
"As long as we win, and I play well, I mean that's my job to score. But like I say we got the win. We lost to them last time which made this a must win game as people said and I just did my job by putting the ball in the basket."
A great win and since that loss before Christmas, The Eagles seem to have come back determined, refreshed and are looking very confident and ready for the rest of the season. Next up is a home BBL Trophy Quarter-Final on Friday against Sheffield Sharks.
"Every game's a big one. We're trying to start the New Year off right and pick up where we were when we started the season and pick up some momentum for the rest of the season."
"This win was a big one. We went down in the first one and didn't want to go down another one. It was a must win one. Everyone came out and did their jobs and no-one can ask more than that."