Congratulations to our NBL Division 1 Team Northumbria men's head coach Marc Steutel who has just been announced in the same job with the Great Britain Under-20 Men's squad.
Coach Steutel takes the reigns from Bristol Flyers and Basketball England men's Andreas Kapoulas, who had been at the helm of GB over the past two years.
It's a return to the national programme for Marc after assisting in 2013 and as well as retaining GB Senior Men's assistant Lloyd Gardner from Barking Abbey in the number two seat, Steutel will be reunited with former Team Northumbria WBBL assistant coach Josh Merrington, who is currently coaching overseas in at the SunLive Basketball Academy in Portugal.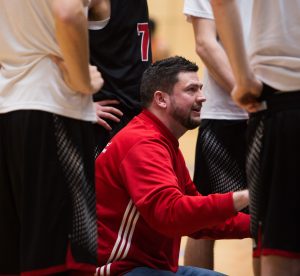 Steutel told the British basketball website Hoopsfix "I am beyond honoured and humbled to lead this years U20's into the European Championships"
"I believe it is the proudest moment to represent your country and I will ensure everyone involved is working relentlessly to make everyone proud of our group.
"Inevitably, there will be some challenges of competing at this level, that all the staff are aware of but we are confident of establishing a positive environment in which our players can achieve the best possible individual and collective outcomes.
"I am fortunate that Andreas and Doug have left the programme in a great place and we will be working to continue to build on the positive foundations they have put in place. Furthermore, having the continuity of Josh Merrington and Lloyd Gardner in place as assistant coaches is a huge positive for me as both are exceptional coaches."
The appointment is well timed as Great Britain head to Germany in a matter of weeks for their Division A games of the FIBA European Championships competing against Turkey, Montenegro and Lithuania.
Good luck in your new role Marc and to all of Team GB next month from everyone at the Eagles!