They will certainly face tougher tests this season and as they say one swallow doesn't make a summer but the new-look Esh Group Eagles Newcastle were certainly impressive on Friday night, writes Jeff King.
In their first competitive outing, together they hit no less than 19 three-point shots from beyond the arc and dished out the assists to each other at the rate of one a minute in the forty minutes played as they flew to a 128 – 78 victory over Team USA Select.
The Eagles had six players in double-figures in scoring and all who played contributed well to a solid, opening and exciting start to the 2017/18 campaign that has many believing that if this Eagles side can gel on and off court, Tyneside hoops fans could be in for a special season this time around.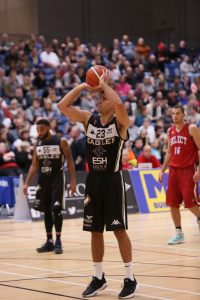 Leading the way on 25 points including 7 of 8 from downtown was Kai Williams. The Canadian is a new Eagle, but has a five-career experience within The BBL and is well placed to assess his new team-mates and their possibilities this season.
"It was good and kinda nice to be on the other side of The Eagles tonight and contributing. It was obviously a good turn-out today for this exhibition series. Definitely happy with the way our team played but there's obviously everything we can improve on and we'll definitely look to work on that in this coming week ready for next weekend's games."
Williams is certainly a player The Eagles need in their roster to help the new players bed-in to the strains of The BBL and its rigours but feels his team-mates have what it takes.
"I think The Eagles coaching staff did a great job in recruiting players this year. They recruited a lot of talented players, a lot of good guys but also a lot of smart basketball players. I think with the pieces that we have everyone is going to pick it up pretty quick."
"For the most part we did a pretty good job today. Obviously, there are a few things we need to tweak and improve on so we can fully hit our stride going forward. Everything's looking good and the guys seem to be picking up things pretty quickly."
For Williams himself he may have earned himself a new nickname of Mr Kaisistency after a smooth shooting performance that saw him top-scoring on his Eagles debut.
"I just had a lot of space, with Nims (Saah Nimley), Jaysean (Paige) and (Darius) Defoe demanding such attention from defenders. I think there's going to be a lot of our forwards and "tweeters" on the court being left open if they're going to try and guard those guys one-on-one it's going to be pretty tough for the opposition."
"It was absolutely a nice way to start. It's always good to hit the ground running but obviously we're looking to improve from here on up."
So, a great start for The Eagles and hopefully exciting times ahead as they prepare for the season's opener at Leeds Force in The BBL Championship on September 29th with two more MKM Building Supplies pre-season games at Benfield Sports Centre next weekend against the Glasgow Rocks and Team Northumbria.