There will be a new face in Toon when Newcastle Eagles come together for the forthcoming season although it's a face that has appeared in the BBL before. Nick Schlitzer played for Surrey Scorchers back in 2015-6, his rookie year as a professional player.
Since then the 6'6" shooting guard has gained experience playing at a high standard in Georgia, Sweden and Iceland. Schlitzer played his college ball at NCAA Division 2 Philadelphia University and comes with the added bonus of an Italian passport.
His season at Surrey saw him average 11.2 points and 3.9 rebounds a game and his ability as a pure, above average shooter and scorer with the ability to handle the ball will make him a valuable addition to the new-look team.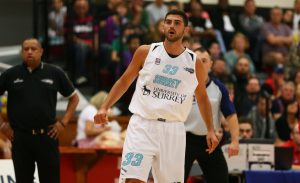 Schlitzer is looking forward to the challenge of being an Eagle and coming back to the BBL.
"I'm excited to join Newcastle. The club has a rich history and a bright future starting with the introduction of a new arena. I remember Newcastle as a strong veteran group who knew how to play together and were very tough minded. I just want to be bring a team first mentality and be ready to work and improve every day."
The experience he's gained since leaving Surrey should stand him in good stead for his BBL return and he rates the BBL very favourably with the countries he's performed in and he can't wait to get started.
"I think those countries and leagues are all different in ways but the BBL is really known for being a strong physical league and I think that stands out amongst the others. I can't wait to get to Newcastle and join the Eagles family. I know they have a strong fan base and can't wait to get in front of them and compete for some titles."
With a nod to his team building for the new season, head coach Fab Flournoy had this to say about his new recruit:
"Nick is a solid and smart guard with good size and a great work ethic. We think he will be a really good fit in the team we are putting together."
Schlitzer is another new face in the Eagles line-up and joins an impressive looking line-up for the new season, which begins with a BBL Cup Group Stage game at the Eagles Community Arena on Friday 20 September against Cheshire Phoenix after an exciting pre-season.