Muckle LLP is the newest name on the Seriös Group Newcastle Eagles kit after the leading regional law firm agreed a pioneering cross-franchise partnership.
The commercial law specialists become the first organisation to seal a shorts sponsorship deal covering both the men's and women's top-flight teams.
And according to Jason Wainwright, Managing Partner at Muckle LLP, shared values were central to signing a mutually beneficial agreement.
"We're excited to be supporting the Newcastle Eagles this season," he said.
"As a leading local law firm, Muckle is always looking for ways to support organisations in our region and especially those which share our values.
"Everyone at the firm is looking forward to seeing both teams in action and we'd like to wish Marc Steutel and Noelia Cacheiro — and their players — the very best of luck for the upcoming season."
Steutel's men's team returns to British Basketball League action in September with women's top-flight action back on Tyneside the following month.
Newcastle dip their toes into the international arena for the first time this season with the men in black set to compete in the European North Basketball League (ENBL).
And Muckle emerged as the latest local firm keen to back the Eagles' ambition on and off the court as a busy summer gathers pace.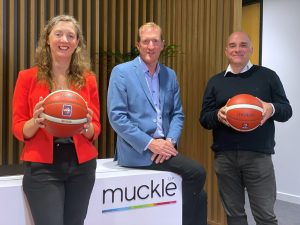 "We've been overwhelmed by the support of the regional business community during the close-season and it really is appreciated," said Paul Blake, Managing Director, Newcastle Eagles.
"Jason and his colleagues at Muckle have a proven track record for getting behind sports organisations and the local community and there's so much synergy between the firm and our franchise.
"Their ethos is one which I really relate to and we're looking forward to Muckle becoming a big part of the Newcastle Eagles family now and in the future."
Muckle LLP is based in Newcastle — with a hub in Cumbria — supporting clients across a variety of sectors including construction, banking and finance, charities, education and sport.
It is the only north of England-based firm ranked independently for its sport practice.
Last year was the 20th anniversary of Muckle's Community Fund which distributes one per cent of the firm's annual profits to worthy causes.
To date, almost £700,000 has been donated to local charities which, in turn, support young people and promote social mobility.
Muckle hold Platinum status by Investors in People (IIP), placing it second in in the world rankings of legal activities sector employers.
Fans will be able to see and pre-order the new-look Eagle men's and women's kits before we hit September, when the Steutel's rebuilt roster tip-off in pre-season.