It was an ecstatic Esh Group Eagles Newcastle side that ascended to the summit of The British Basketball League on Friday night after a devastatingly dominant display against the league's new boys, London City Royals in Sport Central.
The Royals arrived with a huge fanfare accompanying their majestic start to the new basketball season that had seen them win their opening three fixtures in regal style to top the league as the sport's newest franchise.
It was all different at the final buzzer that signalled a high-flying Eagles win by the astonishing 110 – 60 score line that served notice to The Royals that they still have a lot of work to do before they can make claims to the BBL's crown.
Newcastle were simply irresistible as time and time the swooped down on their hapless opponents to cash on their mistakes and turn it in to supreme offence output that sealed a victory for superb team basketball. No fewer than 35 assists, forcing 24 turn overs and shooting the three-ball at 50% sealed the deal for the soaring Eagles.
The home side had no fewer than six players in double-figures by the end of the game and one of those, rookie Kyle Williams, really enjoyed the moment, the performance and the execution of their game plan.
"We had a great week of practice. We prepared well and the coaching staff had us on point. We followed the scouting report to the full and it shows what we can do when we're all in this together and doing what we need to do."
"I felt we made some shots when we needed to and dominated them defensively. We knew they were a tough team going in to the game and we knew we had to be ready for them from the off and I think we were and it showed so well."
"We always try to establish our defence and if we get that right we know the offence will come and that's what happened tonight. But, it's only one win and it's a long season but this was another great step forward and one we can build on for the future."
Williams is already proving to be a real asset for The Eagles Franchise and is settling in to his role well contributing significant minutes and statistics to team's cause particularly with his long range-shooting which accounted for 12 of his 15 points on the night.
"I'm learning all the time and learning what the coaches want from me and what I need to do to help the team. It felt good coming on to court tonight with our will already imposed on them and all I did was what I was asked to do but it was nice to see the shots dropping cleanly."
Williams also had a word for Newcastle's latest signing Jeremy Smith who had a fine debut dropping 19 points on his debut.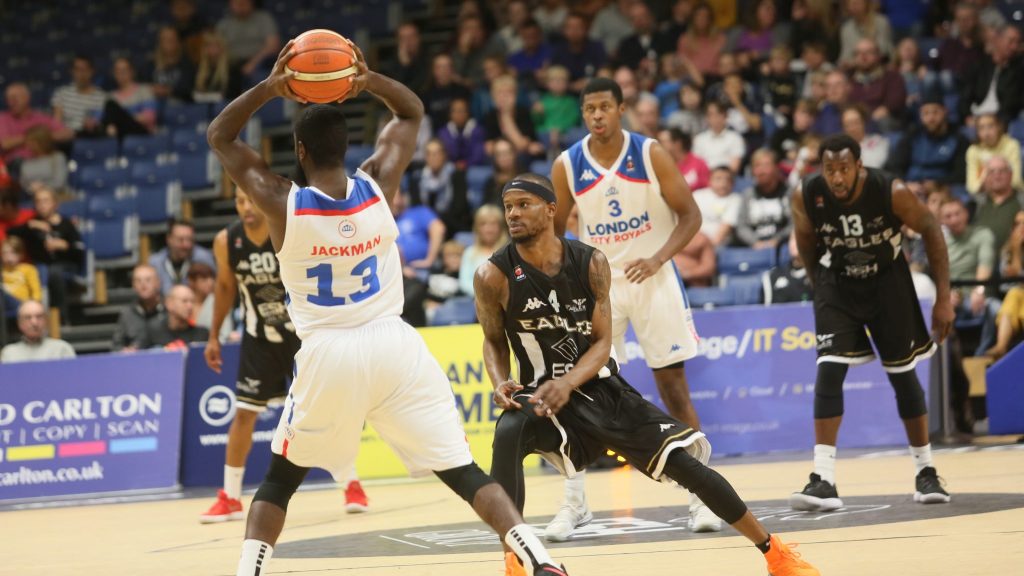 "He had a good game and really contributed for us. It wasn't a surprise as he's been really good in practice and creates a lot of good things on the court. He looks a smart player and I'm really pleased for him to make a good start because that helps us as well."
So, Newcastle maintain their 100% start to the season and now have a fortnight off league duty. Next up for them is the BBL All-Stars Tournament at The Copperbox Arena in London a week today and with it, the first opportunity to land silverware this season.