It was yet another tough night for the Newcastle Eagles on Friday night in what has become a really tough season so far.
Their latest defeat at Leicester in front of the Sky Sports cameras by 100 – 77 highlighted again all the issues they've had to endure.
Late arrivals owing to paperwork issues which was not their fault, then COVID-protocols hitting them, injuries to key players just when they didn't need them and the release of one of their permit players has meant Newcastle have just not got going this campaign.
Out of the BBL Cup which they won last season and now dropping their first championship game to one of their fiercest rivals is hardly the start that Head Coach Ian MacLeod who assessed his side's performance after the game.
"I thought defence was the key to the game. When we played good defence we played good basketball. Second quarter we lost 31 – 13. An eighteen-point loss in a quarter in a game where we lost by twenty-three is kind of the game right there."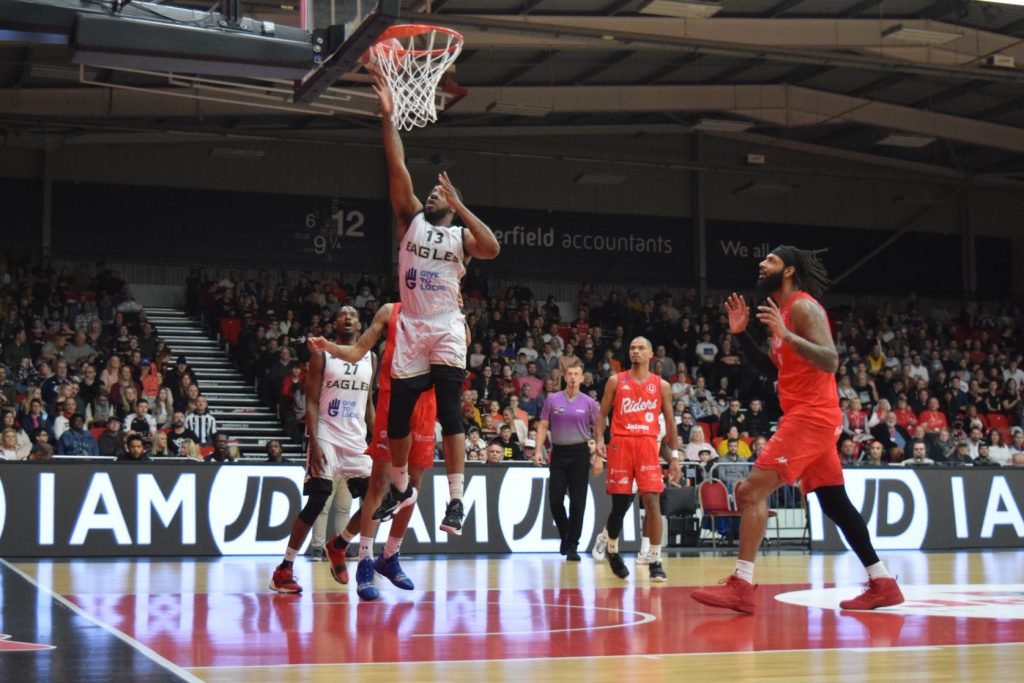 "Our defence is the building block for everything we have. When we let that slip we let the attention to detail slip and it makes it difficult for us to do other things and it puts a lot of pressure on our offence."
"The biggest thing about that is that it sparks our fast break. If we can't get stops it's difficult to hit the other team on the counterattack."
It certainly was one of those games where Newcastle struggled to hold back a Leicester side that were in fine form and especially when it came to shooting. Add in the relentless ball pressure that Riders exerted on defence and it's not hard to see why the Eagles came unstuck.
Captain Rahmon Fletcher and veteran Darius Defoe both returned to the roster and the starting five after two weeks out and having missed four games. It was clearly apparent that although both gave their all for the cause the absence of recent game time showed in their efforts.
Add in the injury to Kyle Williams that kept him on the bench and not having their replacement permit player available and it's easy to make excuses for this Eagles team that needs a lift. Not that MacLeod made any in his summing up of the game.
"We were limited a little bit but I really don't want to point to that as a reason for our performance. We could have done better with our attention to detail both defensively and offensively."
"For sure on level of performance in the second and third quarters in particular is not indicative of being short or needing extra players in. It was really just attention to detail more than anything else."
When you're down it's difficult to pick out positives at times but MacLeod did see things that pleased him and gave him hope for progression.
"We did some good things of course; it wasn't all doom and gloom. We started the game very well and had great intentions early on, had a six-point lead in the first quarter and then I thought we just let things slip for too long in periods."
"For three minutes if you don't play defence against a team like Leicester they can really punish you. They're a good 3-point shooting team which we saw and a good defensive team. We put up seventy-seven points tonight and you should be in a game when you've done that."
"It's really at the other end of the court where we need to tighten up. We've got two games next weekend so it's about having another good week of practice to continue to build and move forward."
Those two games start with a home game at the Vertu Motors Arena against Surrey Scorchers before the longest trip of the season to Plymouth City Patriots a week today. MacLeod's roster will be boosted by the arrival of a new player this week which should help with the situation.