| | | | | | | |
| --- | --- | --- | --- | --- | --- | --- |
| Leicester Riders | 20 | 31 | 27 | 22 | 100 | Win |
| Eagles | 22 | 13 | 23 | 19 | 77 | Loss |
Newcastle Eagles tough, tough start to the 2021/22 season continued last night in Leicester.
After crashing out of The BBL Cup with a one win seven loss record they were hoping to kick-start their campaign in the opening Championship game of the season.
Watch highlights of Eagles at Riders:
But it was not to be as reigning Champions the Riders produced an excellent display at both ends of the floor in front of the Sky Sports cameras to take a huge home win. Leicester used a big second quarter to open the game up and from there in held sway comfortably in the second twenty minutes.
Both sides were far from full strength. Captain Darien Nelson-Henry was out for the home side and Kyle Williams for the visitors who were also an import player down after Terrell Vinson leaving the Club.
The Eagles did have Rahmon Fletcher and Darius Defoe back in their line-up after both had missed the last four losses in the cup but neither, although battling valiantly, looked as if they had their game legs fully back throughout the course of the contest.
The opening period was fast, frantic and hugely competitive. Eagles had gone up early with Cory Johnson and Wesley Person Jr. continuing their scoring run from the last couple of weeks. But Leicester hit back with seven unanswered to take their first lead of the game.
Johnson and Person Jr. both hit 3-point buckets to take the lead away from the home side. When Person Jr. hit from long-range again Newcastle led by six points at 19 – 13 but once again Riders came back levelling the game.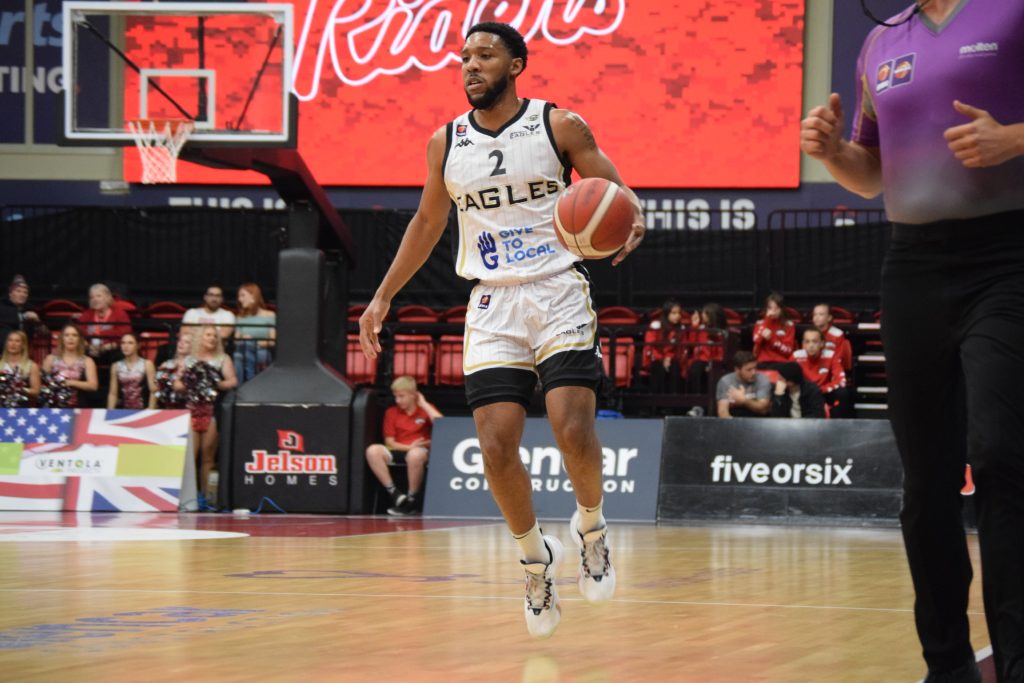 Eagles had the last say of the quarter with Defoe netting to allow them to take the first by 22 – 20. Gradually though in the second period Leicester's ball pressure defence began to stifle the Newcastle offence. It enabled them to be more effective on offence as a result.
Their 12- 4 start to the second ten minutes taking them back in front on the night. Eagles were hampered by slight indiscipline and bad luck picking up two unsportsmanlike fouls to go along with a Fletcher technical.
It enabled Leicester to stretch their lead with Zach Jackson in particular really getting going for the home side as they began to pull away. They were outscoring the Eagles by 2-to-1 and finished the half really strongly going from a five-point lead at 35 – 30 to a sixteen-point lead at 51 – 35 as the sides headed to the locker room.
As the sides emerged for the second half Riders Marc Loving joined his skipper Nelson-Henry on the bench in a tracksuit after seemingly picking up an ankle injury in the first twenty minutes. Was it a glimmer of hope for Newcastle perhaps?
It was not to be as Riders continued to shoot the lights out even without a true inside presence and Newcastle could not produce enough stops at the defensive end to get their offence going at the other. Jackson again coming up big for the home side who stretched their lead to twenty points at 78 – 58 as the third period ended.
Then, if it wasn't game over at that stage already, seven unanswered points to start the final period really iced the game for a red-hot Leicester side putting on a real show for the raucous home crowd and watching TV audience.
For Newcastle, Johnson playing against his former side lead their scoring in another impressive effort and Duke Shelton showed he could be a real threat at both ends of the court in the BBL this season. He had fourteen rebounds for a solid double-double in support.
However, Newcastle were second best for most of the contest after a decent first period. They need both Fletcher and Defoe to get their fitness back as soon as possible and with a new import player coming in next week they'll look to re-group and go again.