After a two-week break, Esh Group Eagles Newcastle take to the court again on Friday in a BBL Cup Quarter-Final home tie against Cheshire Phoenix, writes Jeff King.
Obviously as in every season The Eagles' aim is to win every game and every trophy but with them being the current Cup holders, a trophy they've won three times in a row, this game has a special feel to it.
Perhaps even more so because of that enforced break and the fact that it's a chance to build on what they've been working hard on in practice this past fortnight to continue the winning streak they're on.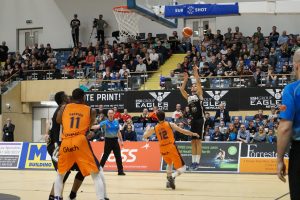 Croatian forward Jure Gunjina is certainly in the mood to get back on court and look to continue The Eagles' excellent start to the season.
"We had two weeks off trying to prepare for the next game and get healthy. Some of the guys were a little bit roughed up with the injuries but now it's nearly game time and Friday we have to be ready to go and get back on track."
"I'm ready, I'm ready. I didn't have any problems in the pre-season and in the first five games, so I'll be ready to go full strength on Friday."
"It's a lot of fun to play this way."
Gunjina came to Newcastle this season after a season spent in Spain where he played in both LEB-Gold and Silver Divisions, league's that are often held up as superior to The BBL. How does he compare the two countries?
"The league's in Spain are a lot more systematic. The plays, the actions, the offence runs pretty much right through the 24 seconds. You have 15, 20 even 30 different plays you can call. Here I think it's a lot faster and you have to make decisions a lot quicker."
"The basketball is played at a higher level of pace, you score a lot more points and have a lot more possessions and I think that's the biggest difference between the two leagues."
"For me it's a big change but I'm getting better at it. I don't think I'm as good right now as I was in the beginning but as the time is going through and the games are coming up I think I'm getting better at it."
"I actually like the faster pace more than I do the systematic pace, it's a lot of fun to play this way. I think you can show your talent a lot more in the types of games in The BBL. Some guys can sometimes lose their talent in the more systematic play. This way you can have more opportunities to show what you can do."
Friday's game, as all Eagles games seem to be, is another big one and another they are desperate to win.
"It's a big challenge to continue the streak. I know The Eagles have won it the last three seasons which just means we've got to step up to the challenge as a new team. Everybody expects us to win it again and that's what we as a team are aiming for as well, nothing less."
"It's been fun to play in front of our fans so far and give them some wins, and we just want that fun to continue and for them to enjoy what we do."