This weekend has been a weekend off for Esh Group Eagles Newcastle or at least it has been in terms of game action. The Eagles last game at Northumbria University Sport Central saw them come back from 19 points down with little under 13 minutes to play to take their season record to 5 – 0, writes Jeff King.
It was the second game in a row when Head Coach Fab Flournoy's team came back from a double-digit deficit to take a win that hadn't seem likely deep in to the third quarter but, their togetherness, tight defence and explosive firepower saw them come through and in to the mini-break still undefeated.
A perfect time to catch-up with Flournoy then and get his thoughts on the team and the season so far.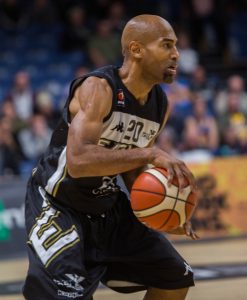 "This week without a game has been about trying to take advantage of the break in two parts. First is to address a lot of issues we have chemistry wise and playing together both offensively and defensively. Two is making sure we get everyone enough rest and healed up for the weeks to come."
"Those are the two parameters for this week. Depending on what we do in this week's training sessions will help us in the long run, November and December in particular."
"I'm proud of the guys. The guys have played really well. I think in our last game we played we sparked a big come-back but that's not a situation we want to be in. We were in that situation in the previous game too against London and then again with Worcester."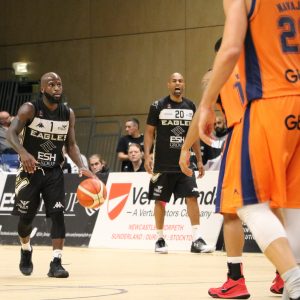 "If I was a betting man I wouldn't bet on us being able to win those types of game all the time. For me thinking about Cheshire coming in in the Cup game, they are a confident team and had a big win against London. They had another tight game against Surrey, so they are a team that is used to close games."
"For us this coming week it's about preparing right. Not necessarily about preparing for them but first of all fixing the issues that we've had because two games in a row we were down double figures and that's not a position that's acceptable for us."
"That's what it is about us, not concentrating too much on Cheshire at this moment, it's concentrating on ourselves and how we fix those issues. When we get to Cheshire we'll deal with what's in front of us then."
Flournoy and his assistants Dave Forrester and Ian Macleod are meticulous in their planning and preparation and for Flournoy it's never good enough just to win, it's about that planning and preparation and always looking for improvement and progress.
"It's not about breaking it up in to blocks or breaking it up to one game at a time. It's really and truly about breaking it up to one practice at a time, from that practice to the next one to the next one, to one video session to the next video session and so on and so forth."
"Because we're so new and at times very talented but we're also very inexperienced at times because we're still learning about each other. The only way we're going to get that experience is by being in those situations."
"So, we have to constantly put ourselves in those situations and go over those situations and talk about those situations be it on the basketball court, off the court, in video sessions, in the weight room and everything and that's pretty much where we are at."
Make no mistake about it when you hear Flournoy talk that 5 – 0 record does not come in to the equation. It is about looking forward and progressing to the next challenge in the right mind-set and being prepared.
That next challenge is Friday 3rd November at Northumbria University Sport Central when Cheshire Phoenix arrive in Newcastle for a BBL Cup Quarter-Final Tie which looks like yet another tough date in The Eagles calendar.