Newcastle Eagles are delighted to announce the arrival of their new centre Duke Shelton as their fifth signing to their 2021-22 roster.
"I found out about the Eagles through my agent and I had a college teammate (Jordan Davis, ex-Sheffield and Bristol) who played a little while in England so from watching a few of his games I have seen Newcastle in action", said Shelton.
The 6'10" American is a former standout star of the University of Tampa NCAA Division 2 school where he had a great college career cumulating in the Sunshine State Conference Defensive Player of the Year in his senior season of 2017-18.
"I decided to come to the Eagles because I believe they are a great fit to me and my style of play", the 25-year-old added.
"The Eagles have a great winning culture in the BBL. I find the league a bit more Americanised and I believe the Eagles have a great staff and organisation."
Since graduating, Shelton has seen extensive professional experience across Europe playing Slovakia, Germany, Finland, Israel and Czech Republic. Last season saw him start with Vienna in Austria before switching to Inter Bratislava in Slovakia in February of this year.
"I am a young player and I have moved around a lot in Europe, but each place I have been I have really appreciated and that experience has shaped me into a better player and person", said the new Eagles centre.
"Whilst I am still a young player I feel that I am a bit more of a veteran at an earlier age.
"I have had the honour and opportunity of playing with and against some really good coaches and players that were veteran. They provided me with a lot of insight about the game and I am very grateful for that.
"I'm sure I will fit well with the Eagles. I'm here to bring energy and effort. Rebounding and a bit of versatility. To play well on both ends of the floor and of course to win.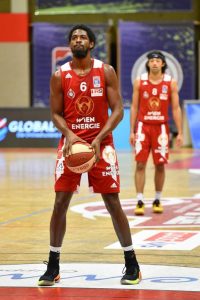 "To the fans I say let's have a fun and exciting atmosphere. I thank you for your loyalty to your city and club. The loyalty that you have had before me and will continue to have after, for as long as Eagles fly."
It's a new name and a new face to both the Eagles and the BBL that adds real height to head coach Ian MacLeod's summer recruitment.
"Duke is an athletic and mobile big man, a great rebounder who already has good experience while coming to the prime of his career at 25 years old", said MacLeod.
"He has experience in very reputable leagues such as Finland, Czech Republic and Slovakia. I am very pleased to be able to bring him in."
As the season fast approaches the Eagles will be announcing more players in the coming weeks who will join Shelton at the Vertu Motors Arena for what should be a very exciting 2021-22 campaign.
Tickets for the opening home game against Glasgow Rocks on Friday 24 September along with 2021-22 season tickets are now on sale from the box office.