Hard Rock Cafe Newcastle bosses have revealed an appetite for success after partnering with the city's most successful sports franchise.
The world-famous restaurant brand has joined forces with Seriös Group Newcastle Eagles to serve up a season of firsts.
And fans of great food and fast-paced action can look forward to reaping the rewards of a mouthwatering collaboration.
"I couldn't be happier about this exciting partnership," said Hard Rock Cafe's Jordon Ditchburn.
"The Seriös Group Newcastle Eagles aren't just a basketball team — they are a symbol of resilience, determination and community spirit.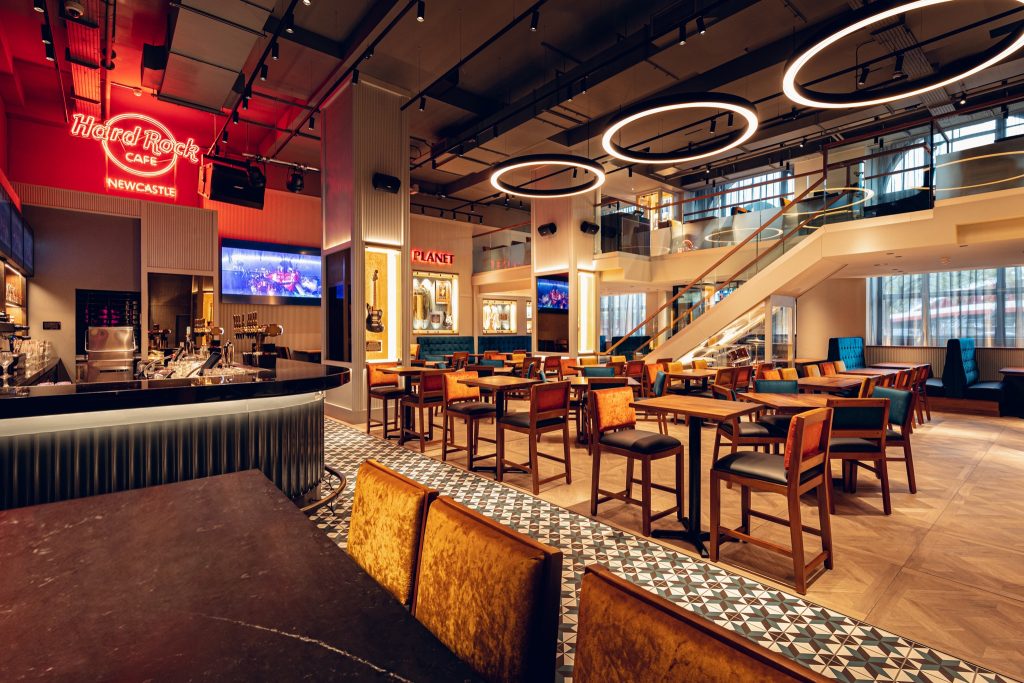 "The club and its Foundation has always demonstrated a strong commitment to our local community.
"Their outreach programs and initiatives demonstrate their dedication to making a positive impact on the lives of those around them.
"Joining forces with an organisation that values community engagement aligns perfectly with our own mission at Hard Rock Café Newcastle.
"This partnership is not just about business. It's about shared passion. We both have a deep passion for what we do, whether it's the thrill of the game for the Eagles or the joy of providing exceptional quality food and service for us.
"When two entities with such enthusiasm come together, magic happens."
Marc Steutel's new-look men's roster enjoyed a team building night out at Hard Rock Cafe Newcastle earlier this month.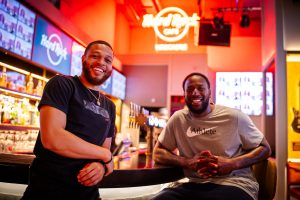 And the Eagles' players feasted their eyes on unique memorabilia from across the globe — showcasing artists including Ed Sheeran, Sting and Taylor Swift.
The men in black found themselves surrounded by iconic items including statement guitars and outlandish stage costumes.
And Steutel admitted: "It really is more than a meal. It's just as much about the experience and the lads absolutely loved it.
"I know Jordon and his team pride themselves on marrying rock and roll with Geordie hospitality and the new guys really felt at home from the minute we stepped through the door."
Our women's team are looking forward to heading to the Quayside hotspot next month ahead of their 2023/24 season start.
Hard Rock Café Newcastle are the new sponsors of the Eagles' hugely entertaining game night Chuck A Duck competition.
And supporters who enter the popular third quarter contest at both our men's and women's games could find themselves landing a meal for two and more courtesy of the club's new restaurant partner.
Season ticket holders can claim 20% off meals or merch at Hard Rock Cafe Newcastle by accessing the offer details from the Card Holders Area of the club's box office and single game ticket holders will receive 15% off on that game day when they show a valid ticket for that date.
And the club's Managing Director, Paul Blake, added: "This is another great example of two like-minded organisations recognising their shared values and exploring some exciting opportunities.
"Hard Rock Cafe Newcastle has become a real staple of the city's restaurant scene and theirs is a brand that resonates with music — and basketball — fans all over the world."
Founded in London in 1971, the Hard Rock Cafe brand has since spread its wings across the globe.
The Newcastle branch, opened in 2019, has quickly become a must-visit destination for locals and tourists alike.
And Jordon added: "Newcastle Eagles are such an inspiring team. Their journey to success serves as a reminder that hard work, determination, and teamwork can overcome any challenge.
"We're proud to align ourselves with a source of inspiration and motivation for so many in our area. Let's go Eagles!"