Former Newcastle and Great Britain playcaller Tony Garbelotto insists Marc Steutel is ready to seize his BBL chance.
The coach widely credited with laying the foundations for two decades of unrivalled Eagles success is predicting big things for the new man at the helm.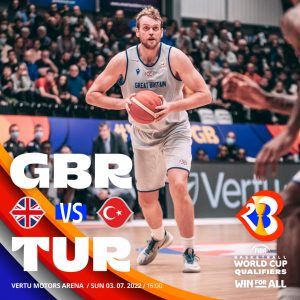 And Garbelotto believes it was only a matter of time before Steutel landed his dream role at the Vertu Motors Arena.
"I've known Marc pretty much right from the start of his coaching journey," explained the Indonesia-based Londoner.
"I was one of his first mentors when he was on the Under 15 development programme that [former GB National Teams Director] Warwick Cann put together.
"We've always stayed in touch and I've always enjoyed following Marc's basketball journey.
"He could have coached Plymouth a number of years ago and there's no doubt that he deserved his shot at a BBL job back then.
"Marc just didn't feel comfortable with that opportunity at the time but I think he's more than ready for the Newcastle job."
Garbelotto was appointed Newcastle head coach in 2000 with a remit to reset and kickstart a club in freefall.
Back then — like now — the Eagles required a new direction after failing to make the end-of-season playoffs.
And Garbelotto successfully steadied the ship before bringing Fabulous Flournoy to Tyneside and ushering in an era of unprecedented success.
The 53-year-old left Newcastle in 2002 but remained a close friend of Eagles' owner Paul Blake and he continues to follow the club's progress with interest.
"I always believed that if it wasn't going to be Ian [MacLeod] coaching the Eagles then it would be Marc," he added.
"Marc was always going to get that job at some point given his close connection with the club and the area.
"I'm really happy for him and pleased that he's finally going to get the chance to coach professionally.
"He's joining what I consider to be the best-run BBL franchise — from top to bottom — in the country.
"On the court there's a new coach and a new direction and I think Marc's appointment is fantastic for the area. It's a great move all round."
Like Steutel, who looks set to continue as GB's acting head coach this summer, Garbelotto has experience coaching the national team.
And after European heavyweights Turkey named a slew of NBA stars in their provisional squad for next month's World Cup qualifier on Tyneside, the veteran playcaller is expecting another memorable night of international basketball at the Vertu Motors Arena.
"We all believe that Great Britain can compete at the highest level," added Garbelotto.
"Our top players know that they can play against the very best.
"But facing teams like Turkey with their full complement of players poses a fresh challenge.
"GB got a great win against France last year but, let's face it, it wasn't the French team that finished second in the Olympics two years ago.
"A full strength Turkish team will be a very different test.
"It's an exciting time for British basketball and the Newcastle fans are in for a treat this summer with the prospect of watching some super high level players representing Turkey."
The Turkish Basketball Federation have announced a 25-man provisional roster ahead of their clash against GB on July 3.
Alperen Sengun (Houston Rockets), Cedi Osman (Cleveland Cavaliers) and Furkan Korkmaz (Philadelphia 76ers) could all start on Tyneside.
In addition, Shane Larkin is also set to represent the Turks with a NBA-stacked resume that includes spells at the Dallas Mavericks, New York Knicks, Brooklyn Nets and Boston Celtics.
Tickets for next month's World Cup qualifier are available from the box office.