In a show of exactly what Newcastle Eagles means to their loyal faithful fans and the North East community at large, three very committed supporters completed magnificent sponsored walks last Saturday to help the club out in these difficult times.
Well known supporter and game-night box office volunteer Jason Palmer and young fans Eva and Isla Milburn together raised £1,884 in much needed funds.
This is on top of over £10,000 fans, local business and organisations helped to raise for our WBBL programme earlier in the summer.
First up, supporting our WBBL team, 7-year-old Eva and her 3-year-old sister Isla took on a 5-mile walk challenge ending at the Eagles Community Arena where they were welcomed across the finish line by none other than our club mascot, Swoop the Eagle.
"Eva has often wanted to organise a sponsored event. When I mentioned that the Eagles women's team were raising money we decided that we could organise the walk for that", proud father Mark Milburn told us.
"We've told them how proud we are of them, so they understand that they've done something really special. Eva understands that we were doing something to help others and that it is really important.
"With the girls' walk we raised over £740, but they don't fully understand how much that is!"
It is an amazing achievement and one that all the Eagles family is rightly proud of. To have such support from such a young age shows how important the club is to the community. Made even better by how the girls were motivated to do it and enjoyed every minute.
"Chocolate cake and crisps have an amazing motivating factor", added Mark, who was with them every step of the way.
"They'd been looking forward to their 'special walk' all week leading up to it. Eva enjoyed seeing the donations come in and celebrated each one.
"On the route we enjoyed spotting flowers and especially walking over the Scotswood Bridge.
"The girls loved it, Isla has even asked to do another long walk on a different day and really wants to see Swoop again."
"They saved a little bit of energy to do a sprint finish. Eva was planning next year's walk as we were finishing, but they were too starstruck with seeing Swoop and the two WBBL players, Rachael (Bland) and Ruth (Thornley), to say anything at the end."
Supporting the Eagles, the women's team in particular and being part of the North East basketball community is a love of the whole Milburn family, who regularly attend both BBL and WBBL games.
"With two young girls in our house I really see the importance of sporting female role models", Mark added.
"We would love to see the women's programme thrive and provide a chance for girls to both take part in basketball activity and enjoy watching the top-flight games."
Two of last season's WBBL squad, Rachael Bland and Ruth Thornley, went along and walked the last mile with their young supporters.
"I think I can speak on behalf of the entire WBBL team when I say that, we would like to express our profound gratitude to our generous community for supporting the 2020-21 campaign", said Bland.
"We are truly overwhelmed with the generosity shown by all during these times of uncertainty."
In a finish-line surprise, Eva and Isla were presented with Bland and Thornley's game-worn 2019-20 WBBL jerseys as a gesture of thanks and as a great souvenir of the event."
While all of this was happening on the Eagles Community Arena plaza another fantastic fan was pounding the streets of the North East to support both the club and its foundation.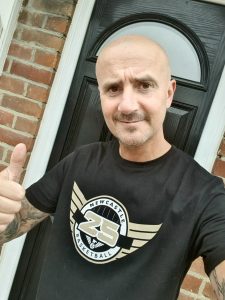 Loyal supporter and game-night volunteer Jason Palmer walked an incredible 13 miles from his work place at Quilter Financial Planning, Riverside House Newcastle to his home in Washington.
Jason came to the Eagles five years ago with his wife Samantha and three children, joining the 'Wings Team' one-year in to help out one box office ticket collections.
"Being a volunteer for last 4 years now and with the current climate, I wanted to help the club and its foundation, especially the women's team, with a little of my love and effort", said Palmer.
"The idea came randomly whilst out walking after work one day, I thought there is no Great North Run this year so why not create my own."
Jason was bouncing with pride and gratitude at the way he had been supported before, during and after his walk.
"I'm overwhelmed as I set a target of £250 and the total ended up at £1,060 when my page closed this week."
In fact at the time of the walk the total was around the £900 mark, but seeing the feat that the 48-year-old had achieved money continued to roll in.
The Eagles new main sponsor for 2020-21 GiveToLocal got involved in the fan's fund-raising with a £110 donation from CEO Neil Gardiner taking the total up over £1,000.
"To be honest I found it easier than I thought, especially with me suffering from osteoarthritis in my knees", Jason told us.
"The start was the most enjoyable along Scotswood road to the ECA, then the Quayside with all its bridges is always special."
All the money raised from Jason's walk will be shared between the Eagles Community Foundation, a registered charity, and the Newcastle Eagles WBBL team.
Summing up his feelings safely back home after the walk Jason said: "I just want the club to grow and not worry about finances.
"I cannot put into words how much I love the place and being part of the Eagles family, hopefully for a long time."
Two great efforts from vastly differing supporters with one thing in common, their love for the Eagles.
Everyone at the club and its foundation is truly grateful for their efforts and thanks them hugely for their support.