On the same night we shared a video of three players from this region talking about women's basketball and how much your support would empower us to grow the sport, we are overwhelmed to have reached our target of £10,000 on what is the 10th day of our Crowdfunder project.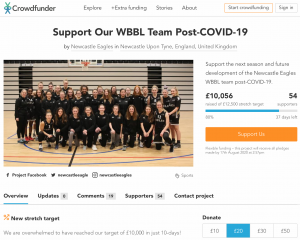 On behalf of the whole WBBL club we want to say a huge thank you to each and every person who has supported women's basketball in our region.
We would also like to show our gratitude to the North East Local Enterprise Partnership (LEP) who match funded £5,000 of the money raised on Crowdfunder.
We can't wait for the new season to tip-off – thanks to you!
The opportunity for fans and local businesses to get behind the team doesn't stop there though, we have now set out to reach our stretch target to cover almost all of our projected 2020-21 season costs. Hitting this will mean that our ticket income will enable us to invest in the future of this programme beyond the next 12 months.
SUPPORT THE TEAM ON OUR CROWDFUNDER PAGE
You can find out about the team, how lockdown halted the Eagles WBBL franchise's second season run of success and what we have planned for the future, as well as how you can show your support on our Crowdfunder page.
There will be more news about the WBBL and our plans for the future development and growth women's basketball across the North East of England soon.