Fabulous Flournoy could be forgiven for taking a break from his beloved basketball following Newcastle Eagles' most disappointing campaign for a decade but the New Yorker is already building for the future as Simon Rushworth reports.
Fabulous Flournoy skipped through the sand like a man half his age. However, the most successful coach in the history of British basketball wasn't enjoying a day on the beach after one of the toughest seasons of his Newcastle Eagles' career. Far from it. Typically, the workaholic playcaller – who turns 45 in July – was putting rising star Themba Yabantu through his paces in the sandpit at Gateshead's English Institute For Sport in a bid to build up the youngster's ankle following a season-ending injury. The post-season holiday can wait. If there's a holiday at all.
"We've got a lot of questions to answer this summer," admitted Flournoy. And he's not wrong. Newcastle failed to qualify for any of 2018's semi-finals and were dumped out of the end-of-season playoffs by a Bristol team that had failed to beat the Eagles in 17 previous attempts. Add in a third-placed finish – the club's lowest league position in a decade – and it's little wonder Flournoy wants answers.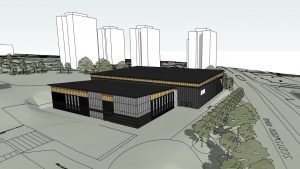 "How do we make sure we're competitive next season," he asked. "What are we taking into the new venue to benefit us moving forward? And which players are we going to bring in? Those are the key questions we need to answer this summer.
"This is no slight on the guys who were here last season but Paul Blake also wants us to concentrate on the personalities of the players coming in. He wants role models who are the right fit for a very successful community programme. We are looking for the right people on and off the court.
"With the new build it's vital that we find the right identity and direction for the club moving forward. However, it won't be a trial and error thing like last season. We can't afford to take that approach with the opening of the new venue just months away."
"There's going to be an overhaul"
The new Eagles Community Arena is slated to open in November and will replace Northumbria University's Sport Central as the permanent home for Newcastle basketball at every level. But from an outsider's perspective the primary focus – as always – will be on the club's BBL team and its ability to build on a famous legacy at the highest level.
"There's going to be an overhaul," added Flournoy. "However, I don't see us changing things as much as we did last season in terms of trying new approaches. This time last year we decided it was time to try a few different things before we moved into the new venue. Some things worked and some things didn't but we're in a better position going forward.
"This summer Paul has asked for progression planning, system planning and future planning. Make no mistake about it – he wants every situation to be looked under a microscope. And that includes my own situation."
It seems inconceivable that Flournoy's position could be under threat but the face of Newcastle Eagles for more than 15 years shares the blame for an incredibly disappointing BBL campaign.
"There are several areas that need addressing," he added. "We need to look at where we want to go moving forward. Being a top four team is one thing but it's more about shaping the way that we play. Also, injuries are part and parcel of professional sport but I look at how my teams deal with adversity. At times we dealt with it great last season. But there were times when the reaction wasn't as good as we would have liked."
Did that reaction reflect a lack of desire? Not according to Flournoy. "The players did care," he insisted. "A lot of the time it was a case of them and me learning how to deal with different situations. Moving forward we will all benefit from – and learn from – those situations."
Flournoy has learned a lot since succeeding Tony Garbelotto as Newcastle coach in 2003 – including how to manage the unique demands of the player-coach role. An injury-ravaged 2017/18 campaign forced the experienced coach to reassess an unforgiving situation.
"From a personal point of view last season came down to a case of play or don't play," he added. "I started off playing and at times it's easier for me teach the guys when I can actually show them what I want on court.
"However, when we had 10 or 11 players fit and available questions were asked about why I was still playing. Whether it was guys within the team, the fans or the media – there were people who wanted to know why I was still playing.
"I understand that but in the second half of the season I was often playing out of necessity because of the injury situation. We were ravaged by ankle injuries – and of course I suffered my own ankle injury – so the opportunity to take a step back and coach wasn't always there. At various points of the season seven players suffered problems with their ankles and it proved extremely challenging. I couldn't focus solely on coaching – even if I'd wanted to."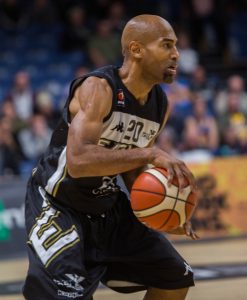 Few Newcastle fans will be surprised if Flournoy suits up again in September but the Eagles' figurehead simply can't go on forever. And just how many more minutes he plays in a black and white vest will depend largely on the new faces coming through the door this summer.
Rumours are rife that the club is readying bids for two high profile former favourites in a bid to go back to the future and restore the glory days. Expect to see dependable duo Darius Defoe and Drew Lasker offered new deals and it would be no surprise to see the Williams brothers – Kai and Jamal – return to Tyneside.
Flournoy and Blake will finalise their hitlist early next month but the former admitted another brand new team is unlikely as Newcastle seek to find the right balance between new blood and proven BBL quality.
"There were a number of times last season when I asked myself how do I develop so many new guys at the same time," added Flournoy. "And is there a right or a wrong way to do it? I'd not been in that position before with so many new faces coming through the door. However, that was the whole purpose of last season – to see if we could bring a brand new team up to speed in the BBL."
Faced with a succession of serious injuries throughout 2018 Flournoy and his coaching team narrowly failed in their bid to mould a new breed of BBL winners. "In the circumstances we didn't quite get there," added the Eagles' playcaller. "We've learnt our lessons and we'll come back stronger."
Season tickets are on sale now for the new era of the Eagles at our new home of the Eagles Community Arena and fans looking to purchase can take advantage of the Early Bird discount which is on until Friday 8 June.